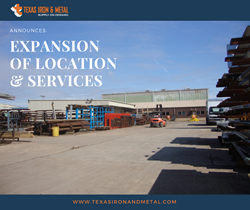 This is an exciting time of growth for our company!
HOUSTON (PRWEB) October 23, 2018
Texas Iron & Metal, a Houston-based, family-owned and operated steel supplier, is excited to announce the expansion of their current stockyard location at 865 Lockwood Drive, just three miles east of downtown Houston.
Now situated on over 10 acres, Texas Iron & Metal's warehouse increased four-fold to over 120,000 square feet. Additionally, the new and surplus steel supplier doubled their yard space for inventory stocking, expanding their current inventory lots at their Lockwood Drive and Harvey Wilson Drive locations. On-site services include pick up for advance orders, fast loading, and both saw and flame cutting services. Texas Iron & Metal's inventory yard is open to the public for better access to their superior selection, including hard-to-find items.
Upgrading their band saw production with the addition of another saw and offering shearing for the first time, Texas Iron and Metal's services have grown as well. With the installation of a HEM H160A-DC band saw, the company is capable of sawing a variety of steel shapes including pipe, beams, angle, tubing and channel, and can also handle bundles up to 25"x25". Being that the saw is automatic, Texas Iron & Metal is ready for high volume cutting. The addition of a Cincinnati plate shear to their production department gives their team the ability to cut plate to specified dimensions and lower a customer's fabrication cost, because the sheared edges will be clean and straight. Texas Iron & Metal can shear material up to 12' wide and anywhere from 3/16" to 1/2" thick.
"This is an exciting time of growth for our company," commented Max Reichenthal, third generation owner of Texas Iron & Metal. "We are looking forward to increasing our product inventory to better serve our clients looking for quality Prime or Less-Than-Prime© steel, pipe or other industrial products, so they can find what they need, purchase it and load it up."
Texas Iron & Metal buys and sells new and surplus steel and industrial material across the United States. Their knowledgeable staff is committed to ensuring smooth transactions, making it easy and quick for customers to find what they need, purchase it and load it up.
About Texas Iron & Metal
In business for more than 75 years, Texas Iron & Metal provides the Houston metropolitan area with Prime and Less-Than-Prime© metal products of different shapes and sizes. Types of material stocked include alloy and stainless steel, aluminum, and carbon. Texas Iron & Metal has been a member of the Better Business Bureau since 2009 and has consistently received an A+ rating from the organization.
The company's headquarters is located at 865 Lockwood Drive, Houston, Texas 77020. Customers can reach a representative at Texas Iron & Metal by calling 713.672.7595 or 800.839.4766, sending an email to sales(at)texasironandmetal(dot)com, or using the contact form on the company's website, http://www.texasironandmetal.com.