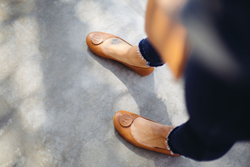 The Perfect Flats are for moms, educators, nurses, executives and every woman who works hard in and out of the home
LONG BEACH, Calif. (PRWEB) December 04, 2018
April Parker is pleased to announce the official launch of the Perfect Flats, now available on AprilParker.com.
Designed as a stylish inspirational life-style shoe brand, April Parker provides comfort, versatility and style by creating everyday footwear and accessories to inspire and empower everyday women. The collection features a growing array of colors and interchangeable magnetic emblems. Sold with a beautiful coordinating leather clutch; each design perfectly matches the shoes. The clutch can not only be used to store shoes, but also features stylish and functionality for everyday use.
The inspiration behind April Parker came after creator April Parker was on her way to a business meeting when one of her high heel shoes snapped. Embarrassed by the loud noise from her broken shoe as she walked into her meeting, Parker decided there had to be a way to avoid this happening again.
"I had no alternative. I had to hobble along, looking quite unprofessional," says Parker, a military veteran, former defense and aerospace executive and mother of six. "The Perfect Flats came to mind when it occurred to me that women should not have to suffer in discomfort and risk injury just to look beautiful, professional and also be taken seriously in the world."
Features of The Perfect Flats:

Ultra-Soft, Top Grain Leather – Molds to Your Feet Like A Glove
Interchangeable Magnetic Emblems – Change Your Emblem and Express Your Style
Flexible, Foldable Design – Easy Storage and Perfect for Travel
Leather Clutch - Easily Store Shoes or Coordinate with Your Favorite Outfit
Cushioned Heel and Arch Support – Wear All Day Comfort and Support
Non-skid Sole – Slip Resistant to Keep Your Feet Firmly Planted
"The Perfect Flats are for moms, educators, nurses, executives and every woman who works hard in and out of the home," says co-founder Chad Curtis.
For more information and to order the Perfect Flats, please visit AprilParker.com.
About April Parker:
April Parker is a brand of ColorBand Shoes, founded by partners April Parker and Chad Curtis. Both are military veterans who decided to combine their passion for footwear with their mutual entrepreneurial spirits. Their goal is to encourage women to be beautiful and powerful in the workplace and beyond - while wearing, "The Perfect Flats".