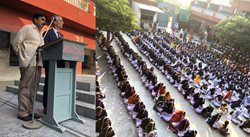 Some people say that Pakistan and the U.S. cannot be friends. I don't believe that.
SCOTTSDALE, Ariz. (PRWEB) December 04, 2018
Brad Denton, partner at Denton Peterson, was invited in October 2018 to address a gathering in Pakistan regarding religious tolerance and US-Pakistan relations. Mr. Denton delivered his address to about 1,500 students, faculty and administration at the Jinnah Model Inter College and High School in Sialkot, Punjab Province.
"Pakistan has many challenges, but its people are working hard to overcome them," Mr. Denton said. "I was honored to be asked to give this address." He said that many Americans assume that Pakistanis hate Americans, or even that Pakistan is America's enemy. "Our governments have their differences, but in all my traveling, I've never been treated more kindly than I have during my trips to Pakistan." In fact, Mr. Denton received the most extended applause of his speech when he talked about friendship between the two peoples: "Some people say that Pakistan and the U.S. cannot be friends. I don't believe that. And each of you can now say that you have an American friend."
The Jinnah Model School has both Muslim and Christian students, and Mr. Denton spoke about the fact that people everywhere should tolerate and support one another. "One thing I really appreciated was that I was invited specifically to address religious tolerance. It was gratifying to share that message, and to have it received so warmly."
Fraz Ahmed, Administration Council Member, said that he appreciated Mr. Denton's address. "Of course it is rare for our students and staff to have the opportunity to hear directly from an American, much less an experienced attorney. We were grateful to hear his thoughts." Mr. Denton also met privately with school administrators on October 25 and 26. Jinnah Model School, like many schools in Pakistan, is a private institution, but it keeps its tuition as low as possible. Jinnah Model School leaders are constantly striving to give students the richest possible educational experience with very limited resources. The school was established in 1990 by Chaudhry Sharif Sahb.
Mr. Denton has been a business attorney in the Phoenix area since 1998. The firm serves small and medium-sized businesses, as well as individuals. "I think my legal and business experience has helped as I interact with professionals in foreign countries," he said. "Some issues are the same no matter where you go. You never know when my experience interacting with Arizona business owners will help during a conversation about, say, financing facility upgrades at a school in Pakistan."
Mr. Denton is widely traveled, having spent significant time on humanitarian and volunteer trips to Japan, India, Peru, Mozambique, Fiji and Pakistan. He has also traveled to numerous other countries for business or tourism purposes. "Having a broader view of the world really does help as I interact with my clients. That's particularly the case as I meet with my international clients." In just the past few years, Mr. Denton and other attorneys at Denton Peterson have served clients from Japan, India, Pakistan, Great Britain, Mexico, the Philippines, Israel, Brazil, Canada, and other countries.