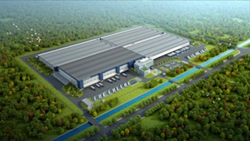 GRAND RAPIDS, Mich. (PRWEB) December 05, 2018
TGW Manufactures China's Largest Shuttle System for Skechers

One of the most highly automated distribution centers in China
Central delivery platform for B2C and B2B
More than 7.5 miles of energy-efficient KingDrive® technology
144 fully-automated Stingray shuttles
Skechers, founded in 1992, is one of the world's largest athletic, lifestyle and performance footwear brands. California-based, Skechers is charting a fast-paced growth course in the Chinese market and TGW has been commissioned to build a highly automated logistics center for Skechers. Go-live is scheduled for April 2020.
Skechers currently relies on its network of three distribution centers to serve the Chinese market. With a planned annual growth rate of 20 percent and changing market conditions, Skechers is aligning and streamlining logistics processes to meet future market demands. Their new B2B and B2C distribution center is being built in Taicang - Jiangsu Province of China.
An Energy-Efficient Shuttle Warehouse
The shuttle warehouse will be used as a goods-out buffer for dispatch and contains 144 fully automated Stingray shuttles. Intelligent energy management will ensure that braking energy is recovered and fed back into the system. Additionally, TGW will provide monitoring and a warehouse control system (WCS) for the shuttle system with an interface to the TGW conveyor system consisting of 7.5 miles of energy-efficient KingDrive® technology as well as four high-performance Natrix sorters. The TGW conveyor system connects the individual areas, starting in the reserve storage area, going through the sorting and picking area and finally ending in the shipping zone.
One of the Largest Orders in the History of TGW China
For TGW China, the Skechers project is one of the largest orders in the company's short history and another milestone in the economic development of this TGW unit. A sizable portion of the total value added chain will be covered by TGW, from locally manufactured mechatronic components including roller conveyors, software and shuttles.