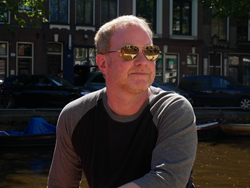 "On this special evening, we have stars in the sky, and on stage," stated Dianne Travis-Teague, Director, Alumni Relations. "We are extremely honored to welcome Craig Titley home to Pacifica Graduate Institute!"
SANTA BARBARA, Calif. (PRWEB) September 21, 2018
Pacifica Graduate Institute Alumni Association (PGIAA) and Pacifica Graduate Institute's Office of Alumni Relations will host its 2nd PGIAA Tête-à-Tête, "An Evening with Craig Titley & Friends" on Saturday, Sept. 22, 7 pm to 9 pm, at the Pacifica Graduate Institute Ladera Campus, 801 Ladera Lane, Santa Barbara, CA 93108. The PGIAA Tête-à-Tête series is geared towards creating deep and meaningful conversations among Pacifica's alumni, the community and professionals. Dialogues exploring many of today's most compelling topics, current events, newly published books, careers, and hot subjects will be led by Pacifica's alumni and faculty.
PGIAA Tête-à-Têtes are free to the public and take place each month. PGIAA alumni and friends are encouraged to email questions (via Zoom) during the live broadcasts so that Tête-à-Tête participants can answer questions in real-time. For those unable to listen live, a recording of the talk will be made available online via the Alumni Association website.
"On this special evening, we have stars in the sky, and on stage," stated Dianne Travis-Teague, Director, Alumni Relations. "We are extremely honored to welcome Craig Titley home to Pacifica Graduate Institute!"
About Craig Titley
Currently both a writer and Executive Producer for ABC/Disney/Marvel's Agents of S.H.I.E.L.D., Titley grew up in Mattoon, Illinois, blessed with teachers that encouraged his self-described "nerdy kid introvert" self. His parents also cheered on his star-gazing and comic-book habits, as long as he knew he would someday need a way to support himself.
Like so many children, Craig found comfort in comic books, especially those of the Marvel Universe, where people who were picked on became empowered. Later, his studies in Mythology and Depth Psychology at Pacifica Graduate Institute triggered an insight that stories like those in the Marvel comic book can satisfy more than readers' wish fulfillment: they exemplify a Jungian principle of the psyche—that power resides somewhere in all of us.
After double-majoring in English Literature and Business at Eastern Illinois University, Craig headed west to study at USC's Peter Stark Motion Picture Producing program. Internships at Universal followed, and he spent a brief time as an executive for Nickelodeon's feature film division. In television, Craig worked as a writer/producer on The Cape, and also with George Lucas and Lucasfilm Animation, penning episodes of Star Wars: The Clone Wars. Craig wrote for three huge movie franchises: Scooby-Doo, Cheaper by the Dozen, and Percy Jackson (See more of filmography at IMDB.) before landing his current, epically fulfilling gig as a writer/producer for Agents of S.H.I.E.L.D.
Titley is a graduate of Eastern Illinois University, received his MFA from USC's Peter Stark Program, and is currently completing a Ph.D. in Mythological Studies at Pacifica Graduate Institute.
About Pacifica Graduate Institute
Pacifica Graduate Institute is an accredited graduate school offering masters and doctoral degree programs framed in the traditions in depth psychology. The Institute has established an educational environment that nourishes respect for cultural diversity and individual differences, and an academic community that fosters a spirit of free and open inquiry. Students have access to an impressive array of education resources on Pacifica's two campuses, both of which are located between the coastal foothills and the Pacific Ocean, a few miles south of Santa Barbara, California.
For the PGIAA Tête-à-Tête Talk Series Application (for alumni only) click here: Alumni Application
For all questions regarding the PGIAA Tête-à-Tête Talk Series visit Craig Titley or contact Dianne Travis-Teague, Director of Alumni Relations, (805) 969.3626 (Ext. 303) or email at dTravis-Teague(at)pacifica(dot)edu.