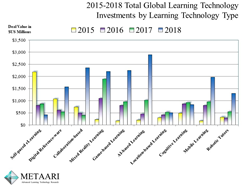 "AI-based Learning is the one area where the US still has a commanding lead over China."
SEATTLE (PRWEB) January 14, 2019
The most striking pattern in 2018 was the investor interest in AI-based Learning startups. Learning products with integrated Artificial Intelligence dominated the investment rounds. A combined total of $2.90 billion went to 197 companies developing AI-based Learning products across the planet in 2018. This was the highest investment total (by a wide margin) out of the ten learning technology product types analyzed in the whitepaper.
"AI-based Learning is the one area where the US still has a commanding lead over China," comments Sam S. Adkins, Chief Researcher of Metaari. "The majority (61.5%) of all global investment in AI-based Learning companies went to 102 US-based companies that raised a combined total of $1.78 billion. In stark contrast, $299.7 million went to just twelve Chinese AI-based Learning companies, a mere 10.3% of all global investments to AI-based Learning companies. In 2018, 25 AI-based Learning companies in India obtained $227.7 million in investments, followed by Israel at $169.5 million."
The investments made to learning technology companies in 2018 were huge, soaring past $16.34 billion with 44.1% going to Chinese edtech companies. This marks the first year that the US did not dominate the overall funding. In 2018, $7.22 billion went to 207 Chinese edtech companies. $5.23 billion (32% of all global funding) went to 248 US companies. Compared to the US, the funding amounts in China were massive.
There was also a spike in the total number of deals made compared to 2017. In 2018, 1,087 edtech firms across the planet obtained funding, up more than 33.6% from 813 in 2017. The investment patterns were heavily weighted in a small number of companies. The majority of investment was concentrated in the 67 companies that garnered over $50 million in funding. These 67 companies raised a combined total of $9.4 billion. Twelve companies raised over $200 million in 2018 and eleven of them were in China. China's Zuoyebang raised an astonishing $850 million in two rounds in 2018.
Metaari publishes their annual whitepaper in the first week of January every year. The new free whitepaper has 45 pages, 10 tables, and six charts. It is called "The Stunning 2018 Global Learning Technology Investment Patterns: The Rise of the Global Edtech Unicorns".
To obtain the free whitepaper, email: research@metaari.com
There was a sharp uptick in investment in Game-based Learning companies in 2018. In 2018, a combined total of $2.25 billion went to 133 edugame companies, more than double the amount invested in 2017. Over $1.96 billion went to 74 Mobile Learning companies in 2018. In contrast, "only" $568.3 million was invested in 37 Mobile Learning companies in 2017. The 2018 Mobile Learning funding was heavily concentrated in four Chinese "homework helper" (zuoye) companies.
About Metaari
Metaari (formerly Ambient Insight) is an ethics-based quantitative market research firm that identifies revenue opportunities for advanced learning technology suppliers. We track the learning technology markets in 122 countries. We have the most complete view of the international learning technology market in the industry. Metaari focusses solely on advanced learning technology research on products that utilize psychometrics, neuroscience, game mechanics, robotics, cognitive computing, artificial intelligence, virtual reality, and augmented reality.