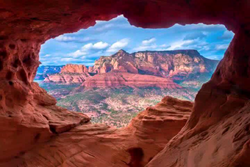 The World is waiting for You!
SEDONA, Ariz. (PRWEB) August 01, 2018
Shamanic Teacher Anahata Ananda of Shamangelic Healing, Sedona Arizona's Premier Center for Shamanic Healing and Spiritual Awakening, announces the final dates for the "Shamangelic Breathwork Facilitator Training Course." Due to the increased interest, two weekends are now available.
The first training takes place from Sunday, October 21-23, 2018, at the center located at the base of Thunder Mountain among, Sedona's Red Rocks. The training concludes with participants facilitating two evenings of Shamangelic Breathwork Ceremonies at the Healing Center, open to the public. The same course is held again November 29 - December 1, 2018.
The breathwork course is open to anyone who has successfully completed the foundation classes. "Shamangelic Empowerment & Awakening" along with "Healing Tools & Modalities" are prerequisite courses for all Breathwork Facilitators. Both courses are powerful compliments to the training course that teach the fundamentals of boundaries, healthy conscious relationships, vibrant living, healing tools, and hands-on-healing techniques that will prepare participants for the Breathwork facilitation.
Deep Shamanic breathing has been sought out to aid in emotional releases, opening new channels of awareness and clearing toxicity in the body. This incorporates guided visualization, holotropic breathwork, vibrational sound, soulful music, energy healing, Shamanic tools, crystal therapy and light body expansion techniques to facilitate a personal transformation.
"The art of breathing is foundational to all states of consciousness. Shamanic ceremony is meant to take one to their edge, and the edge is where the growth is," explained Anahata in her podcast interview with Aubrey Marcus on Matters of the Heart.
Shamangelic Healing and Anahata also offer a full complement of enriching spiritual awakening services through Shamanic Healing and Tailored Retreats in addition to training courses for those who are ready to go to the next level.
Shamanic Healer and Spiritual Counselor, Anahata Ananda, has trained extensively with gifted shamans, energy healers and spiritual teachers from around the world to artfully integrate the fields of spirituality, energy healing, self-empowerment and shamanic teachings. Her client-base spans the globe with individuals from all walks of life who are seeking to heal and awaken to their fullest potential.
The Shamangelic Healing Center is based in Sedona, Arizona, with 360 degrees of breathtaking views and within walking distance to a medicine wheel and healing vortexes, making it the perfect setting for healing and expansion.
For detailed descriptions and a calendar of all training courses, private healing sessions and spiritual awakening services offered by Anahata visit http://www.ShamangelicHealing.com.