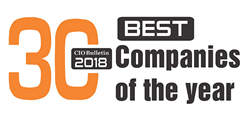 Wharfedale is among the Best 30 Companies of 2018 who are at the forefront of technology innovation.
PRINCETON, N.J. (PRWEB) March 07, 2019
This Month, CIO Bulletin featured Wharfedale Technologies as one of the "Best 30 Companies of The Year 2018". CIO Bulletin provides an interactive platform for Business and IT industry leaders to share best practices and innovative tech solutions designed to support organizations striving to achieve their business goals.
"Best 30 Companies of the year 2018 program identifies companies which are successful in achieving strategic goals through innovation. Winning a spot on this list indicates the company has distinguished itself from peers by proving itself more valuable and reliable in terms of service quality, vast customer base, innovation, and market position," said J.P. Pande, Editor-in-Chief of CIO Bulletin Magazine.
CIO Bulletin's feature article, Wharfedale Technologies: We help customers achieve their objectives by providing innovative, best-in class IT consulting, solutions, and services, identifies Wharfedale Technologies- and founder, Ganesh Radhakrishnan- as "industry leaders in Cloud Architecture for SAP Deployments, SAP Data Migration, SAP HANA upgrade, High Availability, and complete Disaster Recovery solutions."
By detailing Wharfedale's key differentiator, the "Zero Dollar Down Migration Subscription Model" as well as the company's culture of innovation, CIO Bulletin reveals the formula to Wharfedale's success.
"We provide unique solutions that give our SAP clients a seamless and cost-effective transition to the Cloud," said Ganesh Radhakrishnan, CEO of Wharfedale Technologies. "It is an honor to be recognized by CIO Bulletin for our innovative solutions."
Wharfedale's recognition as one of the 30 Best Companies of 2018 is an achievement that its leadership team believes will reinforce its brand recognition as an industry leader in Cloud Digital Transformation.
About Wharfedale Technologies Inc.
Wharfedale Technologies Inc. (WFT) is a leading technology consulting firm specializing in infrastructure integrations and cloud services in support of SAP solutions including upgrading to SAP HANA and migrating SAP S/4HANA to Microsoft Azure, as well as private/public hybrid cloud solutions. Wharfedale is a certified provider of SAP hosting, infrastructure and cloud services, and Microsoft Gold Partner for Cloud Platform. Wharfedale offers solutions for high availability, disaster recovery, advanced sizing for virtualization, backup/recovery integration, systems refresh automation and landscape optimization.
For more information on Wharfedale and WFT Cloud services, please visit http://www.WFTCloud.com or call us at (888) 533-3113.