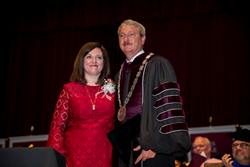 FHU is positioned very well for the future.
HENDERSON, Tenn. (PRWEB) May 13, 2019
Surrounded by a host of students, family, friends and the expanded Freed-Hardeman University family, David R. Shannon was officially inaugurated as the 16th president of FHU Thursday, October 19, 2017.
John Law, chairman of the university's Board of Trustees, welcomed guests, introduced various dignitaries from other higher education institutions, representatives of learned societies, government leaders and members of the Shannon family. He then presented Shannon with the presidential medallion. He concluded his introductions by asking FHU students to stand, telling them, "You are the most important group in this room." Law also highlighted various historic moments in the university's history concluding, "FHU is positioned very well for the future."
Colton Shannon, a 2012 graduate of FHU, introduced his father. He described him as "a man of passion and a man of wisdom." Repeating the advice he often heard from his father during his childhood, he advised him to "be good, do right, say yes ma'am, no ma'am, yes sir and no sir and always be humble enough to sweep the floor."
The overriding message of David Shannon's inaugural address, taken from Psalm 125, was God surrounds His people. "We have trust and confidence because we know God surrounds us," he said. He enumerated the various relationships through which God has blessed the university: students, trustees, civic leaders, delegates from other institutions, faculty and staff, former FHU presidents, the current administration, his assistants and donors. He has enjoyed the encouraging strength of others. "My life has been surrounded by good people," he said. "Three times God has given me good families." He listed the family he was born into, the family he married into and the family he and Tracie built.
Shannon also discussed what it means for FHU to be surrounded by God. He recounted times in the school's history when it "was on the brink of closing but God provided and Freed-Hardeman survived." He mentioned economic difficulties in earlier days: when West Tennessee Christian School was facing closure and a donor came to the rescue, financial problems when A.G. Freed and N.B. Hardeman launched National Teachers' Normal and Business College, when money was needed to build the first men's residence hall and Paul Gray gave $50,000 and in 1950 when W.A. Bradfield started a public relations and recruitment program and rebuilt the enrollment, under the leadership of H.A. Dixon. "It seems like God wants Freed-Hardeman to be here," Shannon said.
The new president also announced recent gifts to the university, including a $1 million endowment funded by Tony and Lisa Giarratana, Franklin, Tennessee, for a Biblical Studies Center of Excellence for Faculty Development in the College of Biblical Studies and another donor has given additional funds to the Next Level Scholarship, an endowed scholarship fund for Bible majors. He also paid tribute to Marietta Hamby who, for many years, has sent monthly $2 gifts to the university. She is a disabled woman who attended FHU but because of her disability was unable to complete her studies.
Shannon shared that the $5.5 million needed to restore Old Main has now been reached, completed by contributions by numerous donors, many in memory or in honor of individuals important to FHU's legacy. For example, he said, Kenneth and Carol Flatt Chadwell, Crossville, Tennessee, gave in memory of Dowell Flatt, for many years an FHU Bible professor and in honor of Della Flatt, who worked in the biblical studies office.
Shannon concluded his remarks with a far-reaching list of 18 things he has learned already in his tenure that FHU needs to do. He listed academic improvements, possible new majors to meet the demands of the marketplace, expanding relationships, growing the whole person, and fostering a spirit of resilience along with many others.
The mission of Freed-Hardeman University is to help students develop their God-given talents for His glory by empowering them with an education that integrates Christian faith, scholarship and service. With locations in Henderson, Memphis and Dickson, FHU offers bachelor's, master's, specialist's and doctoral degrees. More information is available at http://www.fhu.edu.