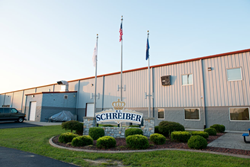 Investing in our people, process, and future
FORT LAUDERDALE, Fla. (PRWEB) May 29, 2019
Family Owned Flavor Company honors 50th Anniversary with revitalized brand mark and package design being distributed nationwide.
R.L. Schreiber, Inc. is a leading food manufacturer crafting over 1,000 premium flavor products. The company marks its 50th Anniversary by its founder and original Purveyor Raymond Leo Schreiber. The family owned and operated company is proudly three generations strong. It is enjoying sustained success in the food service industry by providing fine flavors and service excellence. In celebration of its 50th Anniversary, R.L. Schreiber revealed its new brand mark and refreshed package design. The new packaging reinforces R.L. Schreiber as the premier "Purveyors of Fine Flavors", a brand reputation earned since the company's inception. Over fifty years later, R.L. Schreiber still passionately crafts and personally delivers its products to thousands of customers across the United States.
Our heritage is rooted in a labor of love.
R.L. Schreiber is an American success story that began with one man – our original Purveyor, Raymond Leo Schreiber. Raymond moved his family to Southeast Florida in 1968 with a vision. As a natural born salesman and entrepreneur, he dreamed of starting his own food base company. Pretty soon, R.L. Schreiber, Inc. was born. The business flourished with Raymond's persuasive personality, premium quality products, and passionate customer service. Raymond established an independent purveyor network to provide personalized customer service and delivery. This set the company apart then, and still does today.
Tom Schreiber Sr., R.L. Schreiber Chairman of the Board, recalls, "When my father, Raymond, founded our company over 50 years ago, it was truly a labor of love. He started with his favorite food and soup base recipes that he prepared each morning. In the afternoons, he would personally deliver his homemade food & soup bases to local restaurants and food service establishments. The business steadily grew until he decided to engage several people to become exclusive purveyors for him. It was the beginning of R.L. Schreiber's unique distribution model that emphasized passionately crafted flavor offerings, with personalized service."
We've experienced rapid growth and a tripled sales force.
R.L. Schreiber celebrates a history of success, having grown from one employee (its founder) 50 years ago to a national brand today. The company employs 130 people and has over 100 independent purveyors nationwide. R.L. Schreiber values its manager, employee, purveyor, and customer relationships. Investing in its people as well as technology is important to the company. As a result, it has enjoyed 17% sales growth over the past two years. It also tripled the size of its sales force to support its growing independent purveyor network. This growth led to headquarter expansions and new product developments.
Investing in our people, process, and future.
R.L. Schreiber believes in fostering a corporate culture with family values and professional integrity. When hiring new employees or independent purveyors, the company looks for people who would embrace its brand qualities including safety, quality, unity, integrity, and service. In 2011, R.L. Schreiber moved its spice manufacturing to its new
125,000 square foot state-of-the-art production facility in Lebanon, KY. Four years later, it moved its food base manufacturing. This allowed R.L. Schreiber to expand its geographic footprint for providing superlative quality and service it is renowned for. As part of the move, the company invested in a new employee and independent purveyor training center. It also created new programs that drive performance.
The company has made strategic investments in state-of-the-art production equipment, food safety protocol, and enhanced computer software. This helps facilitate the company's continued quality and growth.
While honoring our roots, we spread our wings. R.L. Schreiber is excited to announce the recent purchase of its new corporate office building in Ft. Lauderdale, FL. The move accommodates the company's comprehensive needs. Ronald Frump, R.L. Schreiber Inc. Chief Executive Officer, commented on the recent move, by explaining, "As a family-owned and operated company, we had outgrown our existing space in our old Pompano Beach facility. With our growth in the past two years, we needed a corporate office that could house our growing corporate staff, all under one roof. Our recent move will facilitate this. It also had smart technology conference room facilities as well as a large corporate kitchen. The timing for this move coincides with our 50th Anniversary, which makes it that much more special." The new corporate headquarters is located at 2745 W. Cypress Creek Road, in Ft. Lauderdale, FL.
About R.L. Schreiber, Inc.
R.L. Schreiber, Inc. manufactures and distributes over 1,000 premium flavor items for the food service industry. Its extensive product line includes food & soup flavor bases, herbs & spices, seasoning blends, instant concentrated stocks, and custom blends. The company passionately crafts premium batches of its superb culinary products. The products are personally delivered to customers by over 100 R.L. Schreiber independent purveyors nationwide. The Purveyor/Chef relationships are highly revered by customers. Purveyors provide regular visits with personalized service, delivery, flavor advice, free product sampling, and inventory checks.
R.L. Schreiber continues the legacy as the premier Purveyors of Fine Flavors. In doing so, superlative quality is paramount in everything the company does. The highest standards of excellence apply to its product quality, food safety programs, innovative R&D, continuous operational improvement, and dedicated customer service. This level of commitment is the reason its customers have remained loyal for 50 years. R.L. Schreiber is the proud title sponsor of the American Culinary Federation (ACF) Student Team Award and Competition. R.L. Schreiber has had a long standing relationship with the ACF. The ACF is the largest professional chefs' organization in North America with over 22,000 members in 230 chapters across the United States.
For more information on our company's history, products, recipes, promotions or to discover the R.L. Schreiber Advantage please visit http://www.RLSchreiber.com.
For information contact:
Media Relations
Jason Massengale (800-624-8777) or jason@rlsinc.com