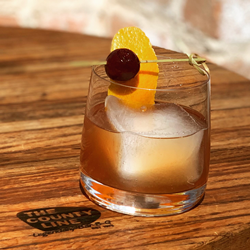 "The ingredients I chose for these hand-crafted cocktails—brandy-spiced cherries, mole bitters, cinnamon syrup, house-made cranberry-orange jam and rich bourbons--show how ready San Antonians are for winter," says Garrett Stephens, Assistant GM/pitmaster/mixologist, County Line Bar-B-Q.
SAN ANTONIO (PRWEB) October 31, 2019
MEDIA CONTACT: Jeanne Albrecht
210-392-9047
jca@jeannebiz.com
The new slate of handcrafted cocktails for fall and winter are now available at The County Line Bar-B-Q on IH-10. Created by Garrett Stephens, Assistant GM/pitmaster/chef/mixologist at The County Line Bar-B-Q restaurant at 4334 Hyatt Place Drive (on IH-10 West between the Wurzbach and Huebner Road exits, near the Colonnade), the Fall/Winter cocktails are "a fun and boozy approach to the traditional fall flavors."
All beers and some cocktails are discounted during IH-10's happy hour, which runs Mondays through Fridays from 3 to 7 p.m. Happy hour includes $1 off beer, house margaritas, our high-end Well selection, and all appetizers.
Cacao Old Fashioned …$12
Two fingers of Cacao Infused Michter's US #1 Single Barrel Kentucky Rye; Liber & Co. Gum Syrup; House- made Brandy-spiced Oregon Cherries; and Xocolatl Mole Bitters. Served in Old Fashioned glass--garnished with orange peel and spiced cherry.
Apple Pie Mule…$9
Enchanted Rock Vodka; House-made Cinnamon Syrup; Honey Crisp Apple Cider; fresh lime; and Gosling's Ginger Beer. Served in a 16 oz. copper mug; garnished with lime wheel and apple slice.
Luxardo Whiskey Sour…$9
Two fingers of Treaty Oak Red Handed Bourbon, fresh lemon, Luxardo Cherry Syrup and Woodford Reserve Spiced Cherry Bitters. Served in a low-ball glass.
Cranberry-Orange Margarita…$9
Milagro Silver Tequila, Paula's Texas Orange Liqueur, House-made Cranberry-Orange Jam and fresh squeezed orange and lime juices. Served in Old Fashioned glass rubbed with lime wedge and dipped in mixture of salt, sugar, and Chinese five-spice powder.
Hurricane…$10
Myers Dark Rum; Smith & Cross Traditional Jamaican Rum; fresh orange-pineapple-lime juices; Liber & Co. Passion Fruit Syrup; and Pomegranate Syrup, served in 16 oz. Mason jar then garnished with orange slice, cherry and flower.
Frozen Rebecca Creek Whiskey and Coke: 10 oz…$7.50 18 oz…$12
Big BBQ Bloody Mary…$9
Our one-of-a-kind Tito's Vodka infusion (infused with tomatoes, cucumber, celery, garlic, onion, carrots, dill and lemon); prepared with Dimitri's Spicy Bloody Mary Mix, and garnished with a pickle spear, pickled okra, green beans, cocktail onions, celery and a hunk of marbled brisket. Served in a mason jar and rimmed with bacon salt.
Painkiller…$10
Stolen Smoked Rum; Myers Dark Rum; Coco Lopez; fresh pineapple and orange juices. Garnished with edible orchid, nutmeg and umbrella.
Texas craft and draft beers include Shiner Bock, Dos Equis XX, Blue Moon, Thirsty Planet Brewing's Thirsty Goat American-style Amber Ale, Live Oak Hefeweizen and Cedar Creek Dankosaurus IPA.
County Line in San Antonio is open for lunch and dinner seven days a week from 11 a.m. to 9 p.m. Sundays through Thursdays, and 11 a.m. to 10 p.m. Fridays and Saturdays. For more information, call 210-641-1998, visit http://www.countyline.com or check its Facebook or Instagram for updates on the restaurant's music concerts, party rooms, happy hours and other specials at County Line.

NOTE: Photos and recipes can be obtained (and tastings or interviews arranged) by contacting Jeanne
Albrecht at 210-392-9047 or jca@jeannebiz.com.