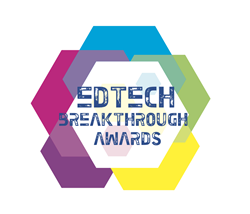 Our goal with the EdTech Breakthrough Awards program is to recognize the educational technology innovators, leaders and visionaries from around the world
LOS ANGELES (PRWEB) June 12, 2019
EdTech Breakthrough, a leading market intelligence organization that recognizes the top companies and solutions in the global educational technology market, today announced the results of its inaugural EdTech Breakthrough Awards program, showcasing technologies and companies that drive innovation and exemplify the best in educational technology solutions across the globe.
"Our goal with the EdTech Breakthrough Awards program is to recognize the educational technology innovators, leaders and visionaries from around the world," said James Johnson, managing director, EdTech Breakthrough. "We received compelling award nominations from all over the world, from early-stage startups to industry veterans and leaders, and we clearly see that the EdTech market is driving innovative approaches and technologies to address the most challenging issues facing education today. We extend a hearty congratulations to our inaugural EdTech Breakthrough Award winners."
The mission of the EdTech Breakthrough Awards is to honor excellence and recognize the innovation, hard work and success in a range of educational technology categories, including Student Engagement, School Administration, Adaptive Learning, STEM Education, e-Learning, Career Preparation and many more. This year's program attracted more than 1,500 nominations from over 12 different countries throughout the world.
All award nominations were evaluated by an independent panel of experts within the EdTech industry, with the winning products and companies selected based on a variety of considerations, including innovation, design and user-experience, as well as overall technological advancement for their respective categories.
The 2019 EdTech Breakthrough Award winners include:
Industry Leadership
Best Use of AI in Education: Carnegie Learning
Best Overall IT Solution for the Education Market: ManagedMethods
EdTech Startup of the Year: Abre.io
EdTech CEO of the Year: Richard H. Collins, Istation
Overall EdTech Company of the Year: Renaissance
e-Learning
Digital Courseware Solution of the Year: Course Hero
Course Authoring Solution of the Year: Trivantis Lectora
Publishing Software of the Year: Nelson Education
Overall e-Learning Company of the Year: Google
Testing and Test Preparation
Best Online Proctoring Solution: ProctorU Live+
Test Prep Solution Provider of the Year: MobyMax
Enterprise Learning
Enterprise Learning Solution of the Year: Watermark
Corporate Learning Solution of the Year: Skillsoft
Online Courses
Best Courseware Solution Provider: RedShelf
Best Ongoing Education Solution Provider: KidzToPros
Best Technology Learning Platform: Nelson Education
Innovation in Online Learning Award: LYADIS
STEM
Best Engineering Learning Solution: UBTECH Education
Best Science Learning Solution: mindSpark Learning
Best Math Learning Solution: DreamBox Learning
Student Information Systems (SIS)
SIS Solution of the Year: Edupoint Educational Systems
Career Preparation
Career Readiness Solution of the Year: Kuder, Inc.
Early Childhood Education
Overall Early Childhood Education Solution Provider of the Year: MobyMax
Next-Gen Schools
Best Competency-based Education (CBE) Solution: SkillSurvey
Classroom Tech Solution of the Year: mytaptrack®
Next-Gen School Solution Provider of the Year: ambi
Language Learning
Language Learning Software of the Year: GoReact
Overall Language Learning Company of the Year: Rosetta Stone
Learning Management Systems (LMS)
Overall LMS Solution Provider of the Year: Instructure, Canvas
About EdTech Breakthrough
Part of Tech Breakthrough, a leading market intelligence and recognition platform for global technology innovation and leadership, the EdTech Breakthrough Awards program is devoted to honoring excellence in educational technology products, companies and people. The EdTech Breakthrough Awards provide a platform for public recognition around the achievements of breakthrough educational technology in categories including e-learning, student engagement, school administration, career preparation, language learning, STEM and more. For more information, visit EdTechBreakthrough.com.