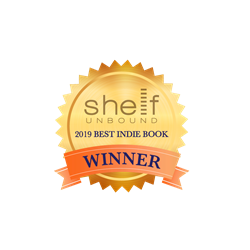 CHICAGO (PRWEB) January 28, 2020
The books are winners of the 2020 Indie Best Book Awards, an independent book awards program for independent publishers and self-published authors.
Shelf Media hosts the annual Shelf Unbound Best Indie Book Competition for best self-published or independently published book. Indies include small presses, larger independent publishers, university presses, e-book publishers, and self-published authors. In addition to prizes, the winner, finalists, and more than 100 notable books from the competition are featured in the December/January issue of Shelf Unbound.
The winners of the 2019 Indie Best Book Awards are:
Overall Winner:

Teetering On Disaster by Michaela Renee
Finalists:

IGIST: New Stars By L.S. Larson
Cooperative Lives By Patrick Finegan
I Don't Belong Here By Melissa Grunow
Kick-Ass Kinda Girl: A Memoir of Life, Love, and Caregiving By Kathi Koll
Little Lovely Things By Maureen Joyce Connolly
Long-Listed:

The Secrets of Elimeare: Wielder of Light By Suzy Rosenow
Britfield & the Lost Crown By C. R. Stewart
Freckled: A Memoir of Growing up Wild in Hawaii By TW Neal
High Flying By Kaylin McFarren
In The Shadow Of War By Patrick M Garry
Nobody Move By Philip Elliott
Savagery By J.C. Mehta
The Biggest Moonshiner By Betty M Rafter
The Spanish Papers By Kevin Tumlinson
The Weight of a Moment By Michael Bowe
On Life and Meaning: 100 Essays Inspired by 100 Guests By Mark Peres
The Shelf Unbound Best Indie Book Competition also included 100 notable entries which can be found at shelfmediagroup.com
The 2020 Indie Best Awards are now open for submissions. Indie and small press authors can enter their book at https://shelfmediagroup.com/competitions