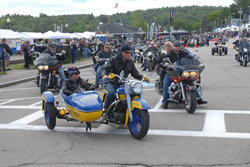 Says Jennifer Anderson, LMCW Association, "New Hampshire offers some great scenic rides in the country and here at Laconia Motorcycle Week, we have organized tours heading out daily, all week long. Best of all, a lot of these rides raise money for charities. It's a win win for everyone involved."
LACONIA, N.H. (PRWEB) June 04, 2019
It's not just about the races, shows, live music and parade of bikes lining Weirs Beach as far as the eye can see. America's oldest motorcycle rally centers around riding and much of that riding is organized for the benefit of some local charities:
39th Annual Cystic Fibrosis Northern New England Charity Ride at NHMA, June 8-9
Help raise funds for the Cystic Fibrosis Foundation by joining this 2-day, off-road ride that starts and finishes at New Hampshire Motor Speedway in Loudon, NH and averages more than 100 miles per day. There's even a brand-new Kids Ride for kids age 14-16 who want to participate. For more info: http://fightcf.cff.org/site/TR/TeamCF/100_Northern_New_England_Nashua?pg=entry&fr_id=7576
13th Annual Peter Makris Memorial Ride, June 8
Join the official kick-off event for Laconia Motorcycle Week with hundreds of other riders on this police-escorted ride around Lake Winnipesaukee. Riders meet at 11am at the NASWA Resort in Laconia and return at 1pm at the same location for lunch and entertainment all afternoon. Ride benefits the Laconia Fire Department's Water Rescue Team, Easter Seals NH Veterans Count Program, and more. More info: https://laconiamcweek.com/event/13th-annual-peter-makris-memorial-ride/
Mae-West Memorial 'For the Love of Pets' Ride, June 10
This ride through local scenic towns starts at Rally Headquarters on Lakeside Avenue and ends at NH Motor Speedway for raffles and music. Line-ups begin at 8:30am, ride leaves at 10:30am. Entry fee includes a custom Sick Boy Motorcycle t-shirt with proceeds benefiting local animal shelters. Over the past several years, this ride has raised tens of thousands of dollars for the NH Humane Society. More info: https://laconiamcweek.com/event/pet-run-ride-mae-west-memorial-ride-leaves-rally-headquarters-1030am-ride-local-scenic-towns-ends-broken-spoke-saloon-raffles-music-proceeds-benefit/
Makris Steak & Lobster House Benefit Ride from Coast to the Mountains, June 11
Help local Veteran Non-Profits by participating in this popular ride which starts at 9am at the Makris Steak & Lobster House in Loudon, heads up through New Hampshire's White Mountains and ends back at the restaurant. Enjoy live music and promos after the ride from 5pm - 9pm. More info: https://laconiamcweek.com/event/makris-steak-lobster-house-benefit-ride-from-coast-to-the-mtns-ride-starts-ends-at-makris-lobster-steak-house-in-loudon-900am/
2nd Annual Speedway Children's Charities NH Chapter Ride for the Kids, June 12
Join hundreds of other riders as they start off with a 3-lap ride around "The Magic Mile" of NH Motor Speedway before heading over to the beautiful coast of New Hampshire. The ride ends at Seacoast Harley-Davidson in North Hampton and includes a barbecue lunch and commemorative patch. Best of all, it raises money for the NH Chapter of Speedway Children's Charities, an organization that, since its inception, has provided close to $1.7 million, supporting nearly 750,000 children throughout the northeast. Your $50/Rider & $25/Passenger registration fee directly supports their efforts. More info: https://laconiamcweek.com/event/speedway-childrens-charities-motorcycle-ride-from-nh-motor-speedway/
Charity Bike Ride & Breakfast, June 15
Our charity rides wrap up Saturday, June 15 with this popular ride that begins and ends at Berkshire Hathaway Verani Realty in Belmont. Kickstands up at 10:15am with a "tiny house" on site for tours. Ride benefits the Lakes Region Children's Auction. More info: https://laconiamcweek.com/event/charity-bike-ride-breakfast-benefit-lakes-region-childrens-auction/
Says Jennifer Anderson, Deputy Director of Laconia Motorcycle Week Association, "New Hampshire offers some of the best scenic rides in the country and here at Laconia Motorcycle Week, we have organized tours heading out daily, all week long. Best of all, a lot of these rides raise money for charities. It's a win win for everyone involved."
At Laconia, we ride (for some great causes)!
Laconia Motorcycle Week® gives great appreciation to all of our sponsors, especially our Presenting Sponsors: Progressive, AMSOIL, and American Iron Outfitters as well as the State of New Hampshire for their large financial support of our rally each year.
Ride Safe and Keep Away from the Centerline!