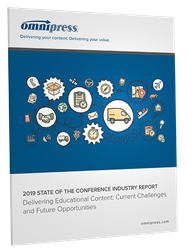 Our goal with this report each year is to help associations leverage their greatest asset--educational content--to strengthen their connection with new and existing members.
MADISON, Wis. (PRWEB) February 05, 2019
For the fifth consecutive year, Omnipress, provider of print and digital content solutions for associations and other organizations, conducted an online survey of 150 association and conference professionals to track the evolution of educational content and the role it plays at the annual conference. The results have been compiled and published in the 2019 State of the Conference Industry Report.
"With four generations attending conferences today, attendee preferences and expectations are more diverse and complex than ever. In response, meeting planners have continued to increase the number of ways in which they deliver conference materials to attendees," states Jonny Popp, General Manager of Omnipress. The 2019 Report notes one of the largest year-over-year increases in formats since it was first published in 2015. For the first time, budgets were also expected to increase accordingly. Adds Popp, "Even with the expected budget increase, meeting planners still don't have the resources, nor the bandwidth to do it all, leading to some tough tradeoffs."
One of those tradeoffs: preparing for a potential influx of young professionals. According to Tracy Grzybowski, Director of Marketing at Omnipress, "We've asked associations each year whether they have a plan in place to address the needs of Millennials, and now Generation Z. Five years later, we have seen little-to-no-movement in their level of generational preparedness."
Due to the size of Generation Z, which is reported to be larger than Millennials and Baby Boomers, and their propensity to seek out professional development opportunities, the pipeline for prospective members and conference attendees is substantial—if associations can connect with them and deliver the value they're looking for. "As these mobile natives take the workplace by storm, the conversation is going to go beyond whether to deliver print or digital content," observes Grzybowski. "We're seeing some emerging, and potentially more complex educational trends—like mobile and micro-learning—make their way to the conference that may ultimately impact how the conference is structured."
Download the free 2019 report to view the complete results.
About Omnipress
Omnipress was founded over 40 years ago to help associations and other organizations simplify the process of collecting, producing and distributing print and digital educational content for their members, attendees, learners and staff.