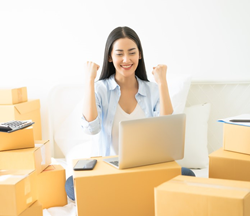 The most significant 2019 small business technology will be that which business leaders put to use.
HOBOKEN, N.J. (PRWEB) December 20, 2018
A NYC area IT consultant and MSP highlights 2019 small business technology in a new article on the eMazzanti Technologies website. Productivity-enhancing devices, embedded AI, updated productivity software, connected printing and security products are among those highlighted.
The informative article discusses new technology available today to small business operators, including several Microsoft products, such as Office 2019 and Windows Server 2019, as well as innovative offerings from HP, WatchGuard and Xerox.
"The most significant 2019 small business technology will be that which business leaders put to use," stated Jennifer Mazzanti, CEO, eMazzanti Technologies. "Those businesses that prudently adopt new technology stand to gain the most in the coming year."
Below are a few excerpts from the article, "2019 Small Business Technology You Can Use."
Office 2019
"For customers who aren't yet ready to move to the cloud, Office 2019 provides an update to the popular business apps with improvements for both users and IT. New features help end users create amazing content in less time."
"Updates include new and improved inking features across the apps, like the roaming pencil case, pressure sensitivity, and tilt effects; more powerful data analysis in Excel, like new formulas, new charts, and Power BI integration; and sophisticated presentation features in PowerPoint, like Morph and Zoom."
HP Metal Jet Technology
"Presented at IMTS 2018, HP is partnering with the world's best materials providers to change how the world designs and manufactures with its Metal Jet 3D printing technology."
WatchGuard Multifactor Authentication
"WatchGuard's AuthPoint Multifactor Authentication (MFA) is designed specifically to the needs of small and mid-size businesses, which generally regard MFA products as expensive, complicated, and hard to maintain. WatchGuard addressed all those issues with AuthPoint, bringing a solution that is cost-effective, easy to manage, and doesn't require specialized staff to manage."
More 2019 Small Business Technology Options>>
2019 Small Business Technology Planning
Organizations that plan carefully as they approach the opportunities of 2019 Small Business Technology will increase their return on technology investment. With a wide variety of technology available, it can be challenging to decide which options make the most sense for an organization.
A forward-thinking business technology provider, one who regularly adopts and evaluates new technologies from all the above vendors, can help business leaders outline a plan to invest in the right technology at the right time to maximize business growth.
Related resource information:
Section 179 Tax Deduction for Technology Investment Doubled for 2018
10 Cool and Practical Tech Gifts for Versatile Professionals
About eMazzanti Technologies
eMazzanti's team of trained, certified IT experts rapidly deliver increased revenue growth, data security and productivity for clients ranging from law firms to high-end global retailers, expertly providing advanced retail and payment technology, digital marketing services, cloud and mobile solutions, multi-site implementations, 24×7 outsourced network management, remote monitoring and support.
eMazzanti has made the Inc. 5000 list eight consecutive years, is a 2015, 2013 and 2012 Microsoft Partner of the Year, 2016 NJ Business of the Year, 5X WatchGuard Partner of the Year and one of the TOP 200 U.S. Microsoft Partners! Contact: 1-866-362-9926, info@emazzanti.net or http://www.emazzanti.net Twitter: @emazzanti Facebook: Facebook.com/emazzantitechnologies.