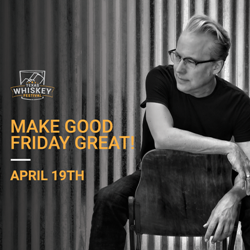 We're supporting the non-profit organization "Impact a Hero" to provide resources to wounded, post 9/11 combat veterans.
AUSTIN, Texas (PRWEB) February 06, 2019
The Texas Whiskey Festival today announced the first 15 distilleries participating at this year's event, taking place April 19th at the Star Hill Ranch near Bee Cave Texas. With more distilleries to be announced in the weeks ahead, the event offers a casual and informative evening for whiskey enthusiasts to meet Texas' master blenders and distillers, while enjoying food, cigar pairings and entertainment led by singer, songwriter and storyteller Radney Foster – all designed to complement the craft whiskey brands showcased at the event.
The significantly expanded showcase of Texas master blenders and distillers includes:
1. Yellow Rose Distilling - Founded in 2010, Yellow Rose became Houston's first legal whiskey distillery, and its Yellow Rose Spirits feature a lineup of Single Malt, Rye and Blended whiskey as well as a limited series of premium bourbons, including their signature Outlaw Bourbon.
2. Still Austin Whiskey Co. - Launched in the fall of 2017 in South Austin's warehouse district, this 100% grain-to-glass operation mills, mashes, ferments, distills, barrels and bottles craft whiskeys utilizing ingredients provided by local farmers.
3. Andalusia Whiskey Co. - Blanco, Texas-based Andalusia produces grain-to-glass single malt whiskeys in the Texas Hill Country that call upon deeply-rooted traditions of Irish and Scottish distilling.
4. Balcones Distilling – Since its inception in 2008, Waco-based Balcones Distilling has been at the forefront of the modern craft movement. The distillery has earned a worldwide reputation for big whiskies, creativity, and an unwavering commitment to authenticity. Well known for the critically-acclaimed '1' Texas Single Malt, Balcones is also distilling blue corn whisky, bourbon, rye whisky and rum.
5. 1876 Bourbon - The reigning Texas Whiskey Festival People's Choice winner, 1876 Texas Straight Bourbon Whiskey's mash bill consists of 80% yellow #2 Texas corn and 20% Secale Cereale Oklahoma winter rye. This blend is triple distilled and aged in new, white American oak then refined to 85-proof, with Hill Country Artesian Spring Water. Distilled and barreled in Texas and bottled by Dripping Springs Distilling Company, the second-oldest family-owned distillery in Texas.
6. Republic Whiskey - Made from corn, rye, a bit of barley and Hill Country rainwater, Republic Whiskey has rich notes of oak and vanilla fading into dark cherry with a bold finish like a West Texas sunset. Barreled and bottled by Dripping Springs Distilling Company in Austin, Texas.
7. Garrison Brothers Distilling – brings a single-minded dedication to the art of making fine bourbon. Garrison Brothers is known for crafting the first whiskey ever made in Texas, as well as the world's first bourbon authentically cooked, fermented, distilled and bottled outside of Kentucky or Tennessee.
8. IronRoot Republic - the Denison, Texas-based family-owned distillery incorporates French Brandy techniques to create distinctive whiskeys from scratch. Their philosophy is influenced by Denison's "Iron" grape roots, which have forever linking Cognac, France and Denison, Texas together.
9. Lone Elm Whiskey – the Forney, Texas-based Five Points Distilling Company combines Texas' soft red winter wheat, water and weather together in a manner that produces a smooth, mature and unique whiskey that's aged in new American white oak barrels sourced from the Ozark Mountains.
10. Tahwahkaro Distilling Co – is a small batch distillery in Grapevine Texas that mills grains, cooks, ferments, distills and ages its whiskey in new oak barrels to produce a uniquely- Texas tasting whiskey.
11. Ranger Creek Brewing & Distilling – is an award-winning San Antonio "brewstillery" that offers hand-crafted beer and whiskey that's made with love, attention and a healthy dose of Texas attitude.
12. Iron Wolf Ranch and Distillery – Bold Spirits, Texas Attitude: Founded in 2013 in Spicewood, Texas, Iron Wolf offers a wide range of spirits that are as bold, diverse and social as the pack they're named for.
13. Devils River Whiskey - Legendary Texas Ranger John Coffee Hays named the 'Devils River' waterway in 1840. From this naturally-filtered limestone spring water, which is considered the purest in Texas, comes the smooth, small batch Devils River Whiskey.
14. Treaty Oak Distilling - Is one of the oldest distilleries in Texas – yet it believes the world's best whiskeys have yet to be made. Treaty Oak's whiskeys blend scientific methods with experiential insights and feature meticulously selected local ingredients.
15. Old Humble Distilling Company – believes that life is too short for bad whiskey, but it's also too long to do nothing about it – and in pursuit of this mantra, an array of bourbons were born form aged barrels that feature Humble's unique blend of corn and grains.
This year's Texas Whiskey Festival features a unique raffle called the Texas Whiskey Collection – which is made up of bottles and swag from all of the participating distilleries.
"The food, entertainment and full spectrum of Texas whiskeys we've assembled makes for a fun and memorable evening for all who attend," said event co-founder Jake Clements. "We're also pleased to report that we're partnering with the non-profit organization Impact a Hero, to provide support and resources to wounded, post 9/11 combat veterans, their families and caregivers. Join us on April 19th for a great cause, and a great night out."
For Ticket information on the 2019 Texas Whiskey Festival, please Click Here.
Details on additional participating distilleries will be made available in the weeks ahead, and distilleries interested in participating are invited to contact: distilleries@txwhiskeyfest.com.

Sponsors interested in interacting with more than 500 attending whiskey enthusiasts can contact: sponsor@txwhiskeyfest.com.
Accommodations are available at the Sonesta Bee Cave, which is partnering with the Festival to offer discounts and group packages for attendees.
Members of the media interested in attending, or being a media partner are encouraged to contact media@txwhiskeyfest.com.
Additional event details are also available via the event's Facebook page, at facebook.com/TXWhiskeyFest.
About the Texas Whiskey Festival
The mission of the festival is simple: To help promote and enhance the brands of the many great distilleries throughout Texas. Along with promotion, we want to educate whiskey lovers about the many top-of-the-line whiskeys being produced in our great state - and we're doing it all while having fun, drinking great whiskey, and building memorable experiences. As an organization, we know that Texas has some of the best distilleries and whiskeys in the world. The Texas Whiskey Festival is an opportunity to showcase that. For more information, please visit: https://txwhiskeyfest.com.