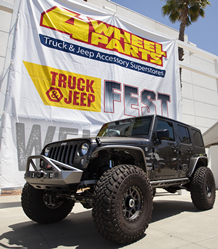 "This is a great opportunity for the off-road enthusiast to talk one-on-one with the industry's leading experts and take advantage of some of the best deals of the year."
COMPTON, Calif. (PRWEB) February 01, 2019
4 Wheel Parts (4WP), the global leader in off-road truck, Jeep, ATV/UTV and aftermarket products, is proud to announce the start of their 2019 Jeep & Truck Fest, the nation's largest annual traveling exhibition of its kind. This two-day, consumer-friendly event brings factory direct pricing, custom trucks and Jeeps, ATV/UTVs, aftermarket product demonstrations and giveaways from the industry's premier manufacturers directly to off-road enthusiasts.
Visitors to the Truck & Jeep Fest will have the opportunity to enter into a number of promotional raffles, including a chance to win one of two $500 4WP shopping sprees, as well as gift certificates for major brands Pro Comp, Smittybilt and Rubicon Express. Manufacturer representatives will be on hand to provide attendees expertise and insight on the latest off-road products, including tires, wheels, suspension and accessories for trucks, Jeeps and SUVs. ATV/UTVs will also have a large presence, reflecting their growing popularity across the country. With up to $500,000 of inventory on hand, off-road enthusiasts can purchase some of the industry's most popular products at dramatic discounts or stop by the popular Blow-Out section with up to 75% off discontinued or damaged-package products. Doors open to the public from 10 a.m. to 4 p.m. on Saturday and from 11 a.m. to 4 p.m. on Sunday.
"This is a great opportunity for the off-road enthusiast to talk one-on-one with the industry's leading experts and take advantage of some of the best deals of the year," said Brent Goegebuer, Director of Advertising and Events at 4 Wheel Parts. "They will have the opportunity to see the latest products up close and personal, as well as extreme builds that would normally be shown at pro races or industry-only events."
The first stop on the 2019 Truck & Jeep Fest tour will be February 16-17, 2019 in Long Beach, California. The campaign will continue to San Mateo, CA (February 23-24), Honolulu, HI (March 9-10), Houston, TX (March 30-31), Puyallup, WA (April 6-7), Dallas, TX (May 18-19), Ontario, CA (June 8-9), Denver, CO (July 13-14), Long Beach, CA (July 20-21), Atlanta, GA (August 3-4) and conclude in Orlando, FL (August 17-18).
Participating manufacturers include ARB, Bestop, BF Goodrich, Bilstein, Bushwacker, Fox Shocks, G2 Axle & Gear, Goodyear, Lund, Maxxis, Method Race Wheels, Mickey Thompson, N-FAB, Poison Spyder, Pro Comp, Rancho, Rigid, Rubicon Express, Rugged Ridge, Skyjacker, Smittybilt, Warn, Wheel Pros and many more.
Highlights

The largest off-road traveling exhibition in the country
Over 100,000 square feet of booths and products
Up to $500,000 worth of inventory on site at the lowest prices of the year
Displays of race vehicles, ATV/UTVs, custom trucks and tricked out Jeeps
Tires, wheels, suspension, bumpers, lighting, truck bed accessories and more
Product demonstrations and installation specials
Free raffles for two $500 4WP Shopping Sprees
Smittybilt, Pro Comp and Rubicon Express Gift Certificates
Hourly promotional pricing and giveaways
Blow-out section with up to 75% OFF on discontinued items
Up to 12 months no-interest financing
Free T-shirt to the first 100 customers with mailer entry form
Images, logos, copy and schedule: http://bit.ly/Truckfest_2019
For media information, please contact:
Joy Aoki
Manager of Marketing Communications | Transamerican Auto Parts | 310-900-2614 | jaoki@4wp.com
About 4 Wheel Parts (4WP): 4 Wheel Parts is the global leader in off-road truck, Jeep, ATV/UTV and aftermarket performance products with 94 retail locations across the U.S. and Canada and counting, 4WP service centers install every product they sell. Maintaining the nation's largest inventory of off-road tires, wheels, lift kits and accessories, 4WP serves customers across the country and around the globe. Visit them at http://www.4wp.com.