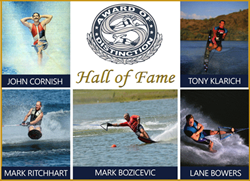 "It's an honor to welcome them to the USA Water Ski & Wake Sports Hall of Fame, where both their achievements and impact will be celebrated," said Tracy Mattes, USA-WWF Executive Director.
POLK CITY, Fla. (PRWEB) October 03, 2018
The legacies and contributions of honorees Lane Bowers, Mark Bozicevic, John Cornish, Tony Klarich and Mark Ritchhart will now live forever as they join our sport's greatest in the Hall of Fame. They will be honored with the Award of Distinction at the 2019 Hall of Fame induction ceremony on April 27th at Walt Disney World's Swan & Dolphin Resort along with Hall of Fame Inductees Don Mixon Sr. and Parks Bonifay.
These individuals have provided fans with countless inspiring moments and influential contributions to the sport. "It's an honor to welcome them to the USA Water Ski & Wake Sports Hall of Fame, where both their achievements and impact will be celebrated," said Tracy Mattes, USA-WWF Executive Director. "Together with Walt Disney World Resort and the water ski & wake sports community, we congratulate them on their accomplishments and thank them for their commitment to our great sport."
The Hall of Fame Class of 2019 features a rich mix of personalities from across generations of water ski & wake sports history.
Lane Bowers
Over the years, Lane Bowers has established himself as one of the most prominent barefoot water skiers in barefooting history. As a coach, motivator, supporter, pioneer and overall ambassador of barefoot water skiing, Bowers has had a lasting impact on the sport for his phenomenal barefooting skills and teaching methods. Bowers skied competitively from 1992-2007. He was a Member of the Elite U.S. Barefoot Team from 1992-2006. In 1992, Bowers was the Worlds Jump Champion and placed 3rd Overall. Bowers competed in the Nationals nine times and won the Nationals in Jump in 1995 and 1997. He entered the Open Pro Men division and won the Open Pro Men Jump four times and the Open Pro Men overall once. Bowers competed in eight World Championships and was awarded the Men's Jumping and Overall champion in the 2003 Barefoot Senior Worlds. He was also the first person in the world to do all four toe-turns "feet-to-feet." Bowers developed the highest selling barefoot instructional video, "How to be the Best Barefooter on Your Lake" which broke down each and every aspect of the basic fundamentals of all tricks and disciplines of barefoot. This led to the growth of his ski school in Winter Haven, FL. Bowers pioneered the concept of "No Fall Barefooting" which allowed him to safely spread the sport of barefoot to all ages and genders. With his strong background in philosophy, this helped him to be able to use his experience, education and fundamental concepts to teach some of the best barefooters in the world. On the competitive side, the biggest impact Bowers has had comes from his ability to teach jump. He has coached multiple national and world jump champions. Furthermore, he has coached national and world record holders including the first American Female inverted jumper. Lane's reach on waterski, as a whole cannot be underestimated. He has the largest mailing and client list for his expansive E-Book and product offerings. This has had a huge impact on the spread of barefooting and waterskiing throughout the world.
Mark Bozicevic
Mark Bozicevic has been a nationally water skier for more than 40 years. Marks multi-faceted role as a competitor, organizer, official and innovator has left an amazing legacy. Mark began water skiing in 1972 shortly after moving to Palm Beach County. He joined the Ski Club of the Palm Beaches, quickly trying to learn all the acts. He was part of the winning club act at a Cypress Gardens event, skiing the role of the unsuspecting tourist who finds a handle and barefoots away. His interest in 3-event skiing quickly followed as he became President of the club. Mark began water skiing competitively in 1974 when he attended his first tournament as a novice 3-event skier in the Men I division. He qualified for his first Regionals in Miami in 1978 and his first Nationals in DuQuoin in 1982. Mark has skied in 30 national championships, missing only 3. His age division has often boasted the greatest number of skiers and even with competition being fierce, he still managed to hold the Florida State slalom record in Men III and again in Men VI. He has 15 medals in the Southern Regional Championships and four in the Nationals. Mark became an AWSA official and organized local club "how-to" clinics for skiers like himself that wanted to improve. He implemented club handicap tournaments to mix new skiers with seasoned experts and to build his club judges and driver pool. Mark is currently a Senior 3 Event Judge and has been an official for nearly all of his skiing career. He has served as Florida Representative on the Southern Region Council and has also assisted as an announcer at several national tournaments. Mark was chosen by AWSA for the vital role of Head of Tournament Operations for the 1989 World Championships. Mark's crowning achievement is the establishment of the public water-skiing facility at Okeeheelee Park which offers a world class water ski experience. Since opening, the Ski Club of The Palm Beaches has hosted 13 Water Ski National Championships, five Southern Regional Water Ski Championships, three Florida State Water Ski Championships and the 1989 Water Ski World Championships at Okeeheelee over the past 30 years.
John Cornish
Described as "a wonderful skier and man," John Cornish is a national champion barefoot competitor and official credited with building the Eastern Region into one of the most competitive regions in barefooting. John began barefooting at the age of 15 by reading "The Water Skier" to learn about barefooting and tricks where he would attempt them with no instruction. He started a local ski club and put on local ski shows on his lake. He took his barefooting on the road with the West Show Club during the summer. John drew attention when he attempted a state barefoot speed record and was clocked at over 75 mph. His first experience with tournament skiing came on a trip to the Cypress Gardens Endurance tournaments. John placed third and was inspired to go home and organize his own tournaments. He hosted the first Eastern Regional Barefoot Tournament in 1978, a tournament that marked Banana George Blair's first appearance on the barefoot scene. When John took over the Eastern Regional Director position, he traveled the country to develop other regional tournaments and officials in nearly every region. John and Stew McDonald were the first two appointed American judges to be sent to the first barefoot world championships in 1978. John was also an alternate on the U.S. Team for the 1978 Worlds. In later years, he coached two U.S. teams including the 1986 World Championships in Kelheim, Germany, where the U.S. won its first Gold medal. From that point on, the U.S. team would dominate the World Barefoot Championships and go on to win an unprecedented 12 straight championships and still counting! John won two overall national titles and numerous individual event titles along with many top placements during his 18 years of competition. He sat on the American Barefoot Club's Board of Directors for several terms, was an ABC President for more than 5 years, ABC Vice President, senior judge, senior driver, regular scorer and a regular Homologator. He was a member of the World Barefoot Council, served as Chairman of the Rules and Officials Committee and worked on U.S. team selection. He was selected as Eastern Region Barefooter of the year and ABC Barefooter of the year.
Tony Klarich
A true pioneer of the sport, Tony Klarich has been a key figure in the water ski and wake sports world for more than 30 years as an innovator, competitor, writer and director. Also known as "The guy who can ski on anything," Tony has invented more than 100 tricks on the slalom ski, sit down hydrofoil, kneeboard and wakeboard. His breakthrough move was a front flip on a slalom ski in 1984, and in later years he invented more than a dozen new freestyle moves on a ski. Tony branched out, striving to make more history. He has garnered 11 world championship titles and national championship titles, specializing in hydrofoiling and hotdogging. In wakeboarding Tony has made significant contributions as an athlete and creator. Tony has written dozens of instructional articles and directed the popular 1997 instructional videos "Hyperlite Boarding School 1 & 2." His "History of Wakeboarding Timeline" is the most complete and documented research on the sport to date. Tony was the producer of Flight Worlds Hydrofoiling from 1996-2003, the director of Hyperlite Wakeboards Amateur Tour 1996-1997 and has organized more than 200 events. Tony also created "Tournament in a Box" template for grassroots wakeboard tournaments. As a 23-year member of the Screen Actors Guild, Tony helped bring water ski & wake sports back to the mainstream media making numerous video and tv appearances for brands including Nabisco Better Cheddar, Stanley Tools, Michelob Dry, Anheuser-Busch, Juicy Fruit Gum, Ford Trucks, Selsun Blue, TV Host of "On the Water" and Many More. Tony published more than 300 articles worldwide consisting mostly of water-skiing instructional articles and feature stories in the Water Ski Magazine, Wakeboarding Magazine, Trailer Boats, Flight World and numerous international publications. Tony sits on the founding board of the wakeboarding hall of fame.
Mark Ritchhart
For more than four decades, Mark Ritchhart has contributed to the sport of water skiing in multiple disciplines gaining notoriety most with his innovative knee boarding performances. His water skiing career began in the late 70's in Lake of the Ozarks . Mark became a professional show skier at 18 and performed at Cypress Gardens and Sea World. Showing off some new innovative doubles moves he won the 1 Adagio Doubles National Title at the D1 National Show Ski Association Nationals in 1994. While honing his skills in slalom & trick skiing, he discovered knee boarding and has become one of the best knee boarders in the history of the sport. Mark is a 24- time Open Men National Kneeboard Champion, 7-time International Kneeboard Champion, 3-time MII National Kneeboard Champion and an 80+ time State Kneeboard Champion. Mark is also a four time USA Kneeboard Team Member and was undefeated in open competition from 2000-2009. He currently holds the Open Men Slalom Record at 67 (1 @41 off) and the current International Slalom Record at 63 (3 @39 ½ off). Mark has also contributed to the sport as a coach, mentor, driver and official. Throughout the 1990's, Ritchhart put his physical instructional skills to work in the collegiate and disabled categories, where he traveled overseas to teach the disabled as a side skier. He took over the Florida Southern College water ski team in 1990 and restructured the program which guided the team back to the national stage. He has held official's ratings for more than 20 years as a Senior Judge, Regular Driver, Safety Director and Technical Controller and has held the position of Chief Judge at several National Tournaments. Sponsored by HO Sports for more than 20 years, his influence as a member of the American Kneeboard Association Board of Directors and his willingness to share his vast proficiency and coaching skills with all, has provided positive effects and experiences for Kneeboarding members past and present.
Visit our website http://www.usa-wwf.org for more.