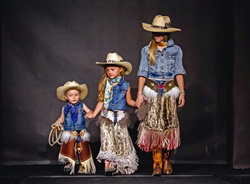 A lively gala to see and be seen in Jackson Hole, the Western Design Opening Preview Party gives guests a first look at the variety of Western-inspired couture.
JACKSON HOLE, Wyo. (PRWEB) June 25, 2019
The live runway fashion show at the Western Design Conference Exhibit + Sale's Opening Preview Party will feature 18 different juried designers this year, from all around the country – each with a unique story and collection to share with guests on Thursday, September 5, 2019. A lively gala to see and be seen in Jackson Hole, Wyoming, the Western Design Opening Preview Party gives guests a first look at the variety of Western-inspired couture showcased and available for purchase at the event. The annual party is the kick-off for the Western Design Exhibit + Sale, a four-day event uniting artists, designers, collectors and shoppers all with a passion for the West and showcasing the finest in American craft for home design and fashion, in styles from cowboy to contemporary, at the Snow King Center in Jackson from September 5 – 8, 2019.
More than a dozen returning and new-to-the-show designers will present their pieces on the runway and then exhibit their work in the showroom along with other art-to-wear artisans showcasing handmade pieces in the form of jackets, wraps, clothing, custom boots, hats, handbags and more – all available for purchase.
Art-to-wear fashion hitting the runway this year includes incredible chaps from Whoa Pony Chaps, handmade by leather artisan and ranch boss Katy Wilkinson, who currently lives in Yellowstone National Park and has 30 years of working with horses – all providing inspiration for her beautifully detailed pieces for adults and kids.
New designers to the runway include painted suede fashions from Ewka out of Santa Fe, New Mexico, while returning to the runway is a line from UNI by Jae Song out of California whose handmade pieces are all reversible. Elyse Allen Textiles returns from New York this year with her beautiful cashmere capes, hats, gloves and other luxurious accessories, several adorned with Swarovski crystals. Also returning is the always popular A. Tsagas Designs whose inspiration comes from the 70s, rock and roll and rodeo queens, along with Gossamer Wings Santa Fe by Barbara Grimes, who specializes in elaborate beadwork on suede, leather and shearling garments for both women and men. And the kids from the Jackson Hole Art Association will take to the stage again with personally created designs they've been working on for months, proudly modeling their creative pieces for the crowd.
From Colorado, Coyote Couture returns to the fashion show with a collection inspired by the natural beauty of the wild coyote in beautiful wearable pieces. And California's Living and Dyeing by Michelle Hoffee reveals designs created from slow-cloth techniques, using hand embroidery and Japanese-inspired nuno felting to sculpt unique natural-fiber clothing. New from California, Misty McCollum of Misty M Designs will showcase her cool-girl contemporary hide handbags and clutches.
Other new designers to the runway and show this year include 1 Hide Bags from New Orleans; Crown & Brim, featuring custom hats made in Jackson Hole; and Travel Clothing by Half Moon, with sustainable and stylish wool capes, cloaks and coats from Colorado.
Western Design tickets are $15 for an Exhibit + Sale day pass; VIP entry and reserved seating at the Opening Preview Party + Fashion Show is available for $125 per person; $50 general admission. All tickets include open bars or daily happy hours.
About the Western Design Exhibit + Sale:
The 27th annual Western Design Exhibit + Sale is a four-day, multimillion-dollar event that brings together makers, collectors, interior designers, architects and fashion designers with a love of the West. The Western Design Conference was founded 27 years ago in Cody, Wyo., to promote contemporary artists working in historical American craft methods. The Western Design Exhibit + Sale moved to Jackson Hole, Wyo., in 2007; Allison Merritt continues the strong commitment to Western arts in Wyoming while expanding the reach of the show. Additional information on the Western Design Exhibit + Sale, including schedules and tickets, is available at http://www.westerndesignconference.com and on Facebook, Instagram and Twitter @WesternDesign.