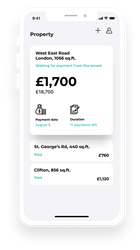 Upfront funding for landlords, repaid by their tenants. Tenants still pay monthly, landlords can choose to receive rent for any period.Longer-term rental arrangements, which further benefits both parties.
LONDON (PRWEB) October 07, 2020
We all know landlords would like to protect their cash flow and minimise their own risks, which is why they often ask for deposits, insurance and several months of rent upfront. Meanwhile, tenants prefer to pay as they go without any significant funding peaks. The result? Tension between perfectly reasonable landlords and tenants, simply because both parties are seeking to lower their own financial risks.
Wectory is a mobile app that offers landlords several months of prepaid rent in advance, in exchange for a discount. Tenants still pay monthly, but landlords can choose to receive rent for any period of time they fancy (within reason, of course). Want six, 10 or even 12 months' rent right now? Wectory will sort it for you.
How it works.
After registering, landlords can decide on the number of months they'd like upfront rent for, then send an invite to their tenants. This invite notifies tenants that they must make the requisite next number of rental payments via the Wectory app and they then pay rent on a monthly basis as they normally would. Following the initial prepaid period, landlords can choose whether to request another prepayment, or whether Wectory simply continues to collect monthly payments from tenants with immediate transfer to landlords' accounts, minus a small fee. It's really that simple.
What's in it for tenants?
The benefits for landlords are clear, but how easy will it be to encourage tenants to use Wectory?
The first and most obvious advantage of using Wectory for renters is the app itself. Tenants can log on to a clear, transparent and user-friendly app, with handy schedules, reminders and reports included. One-touch payment is available, as are automatic recurrent payments, so tenants never need to worry about forgetting to pay rent on time.
But Wectory will also roll out a feature offering renters short-term help if they're running low on funds. So if a tenant needs to bridge a gap between rental payments, Wectory can step in and transfer the required amount directly to their landlord.
Better relationships.
Wectory's ability to deliver prepaid rent naturally makes landlords happy, while its easy-to-use payment app with the option of lack-of-cash assistance means happy tenants, too.
All of which helps eliminate so many of the tensions that can come to exist between landlords and tenants, and could well lead to longer-term rental arrangements, which further benefits both parties.
Wectory will launch in the UK without fanfare in invite-only mode in early November. This allows the team the time and space to give each individual customer the attention they deserve, rather than focusing on increasing the number of clients. You can request your invite at http://www.wectory.com