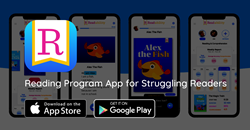 Ameeta Jain, CEO of Readability Tutor, says, "We're honored to receive these prestigious awards and thrilled to be part of a little readers journey in developing a strong foundation of learning through reading."
LONG BEACH, Calif. (PRWEB) October 07, 2020
ReadabilityTutor recently won two prestigious awards for developing a groundbreaking, innovative AI-driven app to help children improve their reading and comprehension skills.
Readability Tutor was awarded the Parent and Teacher Choice™ award from HowtoLearn.com, the world's leading website for learning resources. This annual award is given to the best educational product, service, or toy that can be used to make a positive difference in children's lives.
The judges, who are parents and teachers, consider a number of different factors when determining who should win this highly sought after award. This award is only bestowed on the best educational products, services, or toys that use innovative ideas or technologies, promote critical thinking skills, build character, and help children discover the joy in learning.
This year's judges were impressed by Readability's unique approach to helping children learn how to read and even praised the app's ability to hold a child's attention. The team of judges voted unanimously to give Readability the gold medal Parent and Teacher Choice™ award this year.
Readability also received the coveted Mom's Choice Award® in the apps and software category for children aged 5 to 8. Throughout the world, the Mom's Choice Awards® are viewed as an esteemed program that sets the benchmark for excellence in children's products and services.
The winners of the Mom's Choice Awards® are chosen by a panel of education experts, media professionals, parents, children, librarians, authors, and more. These judges only give the Mom's Choice Awards® to the highest quality products that offer education and entertainment value to children.
ReadabilityTutor is a reading app that uses artificial intelligence, advanced speech recognition, and other innovative technologies to help struggling readers improve their fluency, speed, decoding, and comprehension skills. Strengthening these skills is crucial to setting children up for a lifetime of academic and professional success.
Ameeta Jain, CEO of Readability Tutor, says, "We're honored to receive these prestigious awards and thrilled to be part of a little readers journey in developing a strong foundation of learning through reading."
For media inquiries or for more information about Readability, please contact mailto:pr@readabiltiytutor.com [pr@readabiltiytutor.com __title__ null].