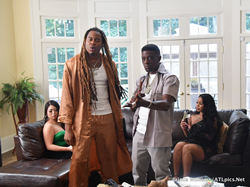 "I completed eight years of a 10-year bid. Even though I am re-enacting my previous life in this video, those same experiences taught me important lessons that now translate well into my entertainment career. I served my time, now it is time to grind."
ATLANTA (PRWEB) October 21, 2020
As a follow-up to Xay Capisce's independently released single, "Shottas" featuring Boosie Badazz, the Anniston, Alabama native is now delivering gritty visuals for the hard-hitting street anthem. Inspired by Jamaican crime film "Shottas", the official video is an ode to the 2002 cult favorite, giving an updated look into the life of two young men (Xay Capisce and Boosie Badazz) who pursue a life of crime in America. Filmed in Atlanta, GA, the music video shows Xay Capisce and Boosie Badazz re-enact key scenes from the movie that showcase the fruits of their illegal labor and their continued surge in crime.
Xay Capisce, no stranger to the streets, does not shy away from his personal truths. The re-release of "Shottas" along with the official video is a great way to give his growing fanbase an inside look into his own life experiences. Xay Capisce served nearly a decade in prison for drug conspiracy, but quickly changed the trajectory of his life once he launched his music career. "I completed eight years of a 10-year bid. Even though I am re-enacting my previous life in this video, those same experiences taught me important lessons that now translate well into my entertainment career. I served my time, now it is time to grind."
"Shottas" by Xay Capisce featuring Boosie Badazz was produced by "Beatz da God" and is available on all digital streaming platforms.
Stream: Xay Capisce's "Shottas" featuring Boosie Badazz
http://smarturl.it/ongod2
Video: Xay Capisce's "Shottas" featuring Boosie Badazz
https://www.youtube.com/watch?v=Lmt4cE6Dcqw&feature=youtu.be
Stay connected with Xay Capisce digitally for all new music releases and announcements:
Facebook: @artistxaycapisce
IG/Twitter: @xaycapisce
Website: http://www.xaycapisce.com