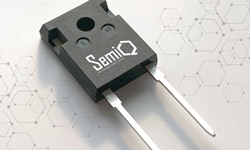 "This partnership expands the SemiQ product line to an even wider group of power companies by leveraging Mouser's world-class distribution expertise. Design engineers worldwide rely on Mouser to provide the latest in devices and this agreement will provide them with greater access to our products."
LAKE FOREST, Calif. (PRWEB) October 29, 2020
SemiQ, Inc. ("SemiQ"), is proud to announce that they have signed a global distribution agreement with Mouser Electronics, Inc. to supply SemiQ's Silicon Carbide (SiC) Diodes and MOSFETs in both discrete and module packages. Mouser Electronics is a Global distributor giving customers ready access to the latest in technology.
SemiQ Silicon Carbide Schottky diode modules and discrete products use our 3rd generation diodes with enhanced robustness and thermal performance and are available in 650V, 1200V and 1700V. The SemiQ products available through Mouser will be especially beneficial to engineers in EV charging stations, power supplies, solar inverters, appliances, and circuit protection. Visit https://www.mouser.com/manufacturer/semiq to see the range of products available.
"This partnership expands the SemiQ product line to an even wider group of power companies by leveraging Mouser's world-class distribution expertise," commented Michael T. Robinson, SemiQ President. "Design engineers worldwide rely on Mouser to provide the latest in devices and this agreement will provide them with greater access to our products."
About SemiQ
SemiQ designs, develops and manufactures Silicon Carbide Power Semiconductors as well as 150mm SiC epitaxial wafers. SiC Diodes and MOSFETs are available in both discrete and module form factors as well as bare die and wafer form. SemiQ also offers power conversion application expertise which includes sub system design and semi-custom modules. SemiQ serves the following end markets: Electric Vehicle Chargers and Charging Stations; Power Factor Correction (PFC); Output Rectification; Power Supplies including Server Farms; Solar Panel Inverters, Welding, Medical Equipment; and Motor Drives. SemiQ's manufacturing and engineering facilities are located in Lake Forest, California. The company is uniquely positioned with a fully redundant SiC supply chain. Visit https://www.semiq.com/
About Mouser Electronics
Mouser Electronics, a Berkshire Hathaway company, is an authorized semiconductor and electronic component distributor focused on New Product Introductions from its manufacturing partners for electronic design engineers and buyers. The global distributor's website, Mouser.com, is available in multiple languages and currencies and features more than 5 million products from over 800 manufacturers. Mouser offers 27 support locations worldwide to provide best-in-class customer service in local language, currency, and time zone. The distributor ships to over 630,000 customers in 223 countries/territories from its 1 million-square-foot, state-of-the-art distribution facilities in the Dallas, Texas, metro area. For more information, visit http://www.mouser.com.
For additional information, contact sales@semiq.com or find us on LinkedIn https://www.linkedin.com/company/semiqpowersemiconductors