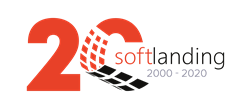 "I feel both humbled and proud that 20 years later that goal feels both realized and as alive and relevant as it did on our very first day." Shaun Roberts, Softlanding's President
VANCOUVER, British Columbia (PRWEB) November 02, 2020
Softlanding Solutions Inc. has reached an exciting milestone as the company celebrates 20 years in business. Over the last two decades, Softlanding has helped hundreds of Canadian businesses leverage Microsoft technologies to boost innovation and drive business value.Softlanding was founded in September 2000 by three friends and colleagues formerly from Syscom Consulting: Shaun Roberts, Andrew Sobieski, and Paul Hundal.
The company originally focused on providing Microsoft infrastructure consulting and support, as well as support and document management consulting for law firms. Over the years, Softlanding has successfully enriched its' portfolio of offerings to include cloud and managed services, workplace and application modernization, and security services. A Microsoft partner from inception, Softlanding has continually advanced capabilities and now holds 11 Microsoft Gold Competencies and multiple Microsoft Advanced Specializations.
Today, Softlanding operates across Canada with 80+ staff members located in British Columbia, Alberta and Ontario with a mission to make Canada a more productive, modern, global, and awesome place to live and work. Softlanding held a virtual celebration event for staff and donated $2,275 to food banks across Canada to support local communities struggling with financial impacts of the COVID recession.Reflecting on 20 years in business, company co-founder and president, Shaun Roberts attributes much of Softlanding's success to the company's deep-rooted spirit of continuous innovation, its committed and optimistic employees, and a management team that helps foster creative thinking, innovation and problem-solving.
"Our goal when we started Softlanding was to create the kind of company that all of us would want to work for – a company that puts people first and foremost. I feel both humbled and proud that 20 years later that goal feels both realized and as alive and relevant as it did on our very first day. Global challenges aside, I can say without hesitation that I have never been more excited about where we are today and our path forward to the future". Looking ahead, cloud transformation and workplace modernization will continue to be at the core of Softlanding's strategy; leveraging Microsoft technologies such as Azure, Microsoft Teams, and Microsoft 365 to enable businesses to support remote work securely and become more agile.
About Softlanding
Established in 2000, Softlanding is a leading provider of transformation, professional services and managed IT services that help organizations boost innovation and drive business value. We are a multi-award-winning Microsoft Gold Partner with 11 Microsoft Gold Competencies. We use our experience and expertise to be a trusted advisor and ensure our clients have the best technology solutions to solve their business challenges and thrive in an ever-changing world. We optimize the return on investment of their technology while creating a solid foundation for growth strategies, flexibility and scalability.
For more information, visit: https://www.softlanding.ca/