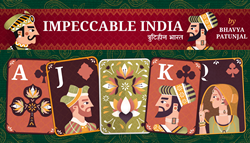 "Flick Solitaire gave me the opportunity to tell amazing stories through my art via a very addictive and pleasing video game! My Impeccable India deck features prominent personalities. Creating and showcasing a side of India that is still obscure to many is a bliss" – Bhavya Patunjal
LONDON (PRWEB) November 09, 2020
Flick Solitaire the finest card game on mobile discovers the latest talent out of India. At just 21, Indirapuram, Ghaziabad based artist Bhavya Puntajal joins the Flick family with his unique and stunning art style that shines through in his Impeccable India deck illustrating legendary figures from Indian history. This majestic deck exclusively available in-game now celebrates the biggest holiday in the Hindu calendar, Diwali.
The twelve court cards are a real triumph in telling traditional stories from Indian history. From infamous love stories and war of renowned Hindu military general, Baji Rao I, to India's original heroic warrior queen, Rani of Jhansi.
The crafting of the cards oozes an original Indian art style with a modern mix showcasing that it is time for these lesser known stories to be shared via art and of course, Solitaire. and the Impeccable India deck at: https://www.flick.games/bhavya
Artist Bhavya was inspired by India's rich culture and historical characters, and cleverly fused symbols of Indian design, architecture and patterns in his radiant and colorful deck.
"I based my concept for the Impeccable India deck on actual Kings and Queens of ancient India. My deck has assigned cards for prominent personalities. Each of the featured characters has amazing stories yet sadly, not many outside of India know about them. I wanted to creating something that inspires people to go on the web and learn more about a side of India that is still obscure to many." - Bhavya Patunjal
Bhavya is based in Delhi, and recently graduated in Computer Science from Bennett University (Times of India Group) in Utter Pradesh. Talented and gifted his hunger to achieve continues as he pursues an obviously destined career path in the design. Bhavya was spotted on Instagram by Flick Solitaire creator Ian Masters.
"Adding to the Flick Solitaire family is important, I want artists to see amazing and diverse artwork that we featur in-game to inspire more, much more and encourage artists to try their hand at designing a deck. I instantly loved the look of Bhavya's work - such an amazing style - and he's only 21 years old!" - Ian Masters
Since Flick Solitaire's launch in June 2020 the in-game gallery has gloriously expanded. A total of 12 independent artists have been commissioned and challenged to design a deck. Fans are spoilt with such a collections of diverse decks play either Solitaire, Elevens or Pyramid. All featured artists adore playing Solitaire as much as designing the decks too. Bhavya had only played Solitaire twice before working on the project.
"When I first played Flick Solitaire, I found the animations and the playing experience to be very pleasing. So during the whole period of me working these cards, I couldn't stop myself from playing the game everyday - Solitaire is my favourite! My current favourite deck is Deep Space Desperados by Rex Crowle, mainly because I love the name and the character style. Very unique and even the colours are amazing!" - Bhavya Patunjal
The Impeccable India deck takes you on a resplendent journey through one of the oldest histories in the world. The deck is an exquisite colourful peek back to the dynasties of India and in the honour of the 'Festival of Light' - Diwali. Celebrated by the millions around the world, this deck offers fans a bright and colourful way to join in. Download Flick Solitaire today and choose Bhavya's Impeccable India as your starting deck.
Say Hello
Katie Barclay - The ThirdEye PR
katie@thirdeyepr.com
social@flick.games
Media Pack
For fabulous Flick Solitaire assets click here
About Flick Games (http://www.flick.games)
The developer, Flick Games was founder in 2019 by Ian Masters to create a new genre defining solitaire game. The company successfully raised an angel round in April 2020 - securing funding multiple top UK game angels. Ian's previous games include: QuizTix, Super Yum Yum, Sonic Jump, LocoRoco, X-Factor, Chu Chu Rocket and many more.