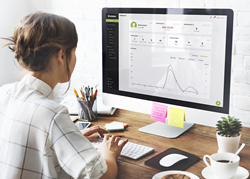 Doba Inc., the industry leader in dropshipping, is introducing game-changing services for retailers and users alike, and to thank its loyal user base and newcomers, Doba has introduced the Seasonal Cash Grab sale, kicking-off the launch of Doba Reimagined.
LEHI, Utah (PRWEB) November 11, 2020
Doba Inc., the industry leader in dropshipping, announced the release of its entirely restructured services. Including many essential feature updates and tool improvements that apply to both suppliers and retailers. To thank its loyal user base and all newcomers, Doba has introduced the Seasonal Cash Grab sale, kicking-off the launch of Doba Reimagined.
"Our mission is to help suppliers and retailers sell more of the right products to the right people. We actively search for suppliers of new, interesting, and in-demand products to add to our catalog every month. We tirelessly strive to create tools and resources to aid our customers in their drive for business growth," stated Doba CEO, Mandy Ji.
With a mission that empowers retailers and wholesale suppliers of all sizes to connect and do business efficiently, Doba has dedicated many years to perfecting its platform to meet the dropshipping business's needs. In doing so, Doba has improved its tools and functionalities and extended its supply chain to empower customers with everything they need to succeed as a drop shipper.
Doba introduces a fully redesigned user interface dubbed Doba Dash, where retailers can discover trending products, manage product listings, place and track orders all in one place. The seamless marketplace integrations and robust custom API integration enable retailers to automate fully, quickly allowing sync of product inventory and orders to their stores on marketplaces and e-commerce platforms such as Amazon, eBay, Shopify, and BigCommerce, and many more. Without having to do the hard lifting, retailers can focus on growing their business.
Read more on this historic shift for Doba users and all its benefits in the Doba Dash blog update.
The Doba catalog comprises millions of products and hundreds of diverse wholesalers, suppliers, and distributors. Whether you are a seller just starting or an established vet, Doba is a unique way to source products that fit your niche and diversify your product offerings. Ensuring Doba products are sold at a retail value while its retailers only pay the wholesale price through the Doba platform. For over 18+ years, Doba has been trusted by over 650,000+ clients, mainly in the US.
"Our experience with Doba since 2015 has been a beneficial one. Through our partnership, we have augmented our product offerings with a range of diverse vendors that are offered through Doba's integration. As a result of this relationship, we have offered our customers high-quality products from reliable vendors that we would otherwise not have had access to. We look forward to our continued relationship as we have seen an annual increase in both revenue and profitability," stated a loyal customer of Doba.
Doba Reimagined is now live worldwide. For more information, click here.
About Doba
Doba Inc. is a global leader in drop shipping services for retailers and suppliers alike. Founded in the United States in 2002, Doba brought game-changing benefits to the industry, making a name for themselves. Backed by the cross-border trading giant, Made-in-China.com, Doba is now pushing the limits with its next-generation offerings. Visit Doba at http://www.doba.com.