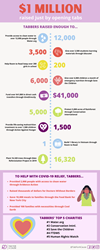 We want to show that helping others can be just as addictive and simple as scrolling Instagram or watching YouTube.
SAN MATEO, Calif. (PRWEB) November 19, 2020
Users of the charity-funding web app, Tab for a Cause, have now raised over $1,000,000 for charity through their normal web browsing.
The astoundingly simple app transforms an often unnoticed daily activity--opening new browser tabs--into a charitable habit. With Tab for a Cause, instead of the default new tab page, users see a beautiful background image, customizable bookmarks and notes, and a few small banner ads.
The ads on the new tab page raise money, driving charitable giving to 9 partner charities including Water.org, Save the Children, Conservation International, GiveDirectly, Room to Read and similar globally impactful nonprofits. It is completely free for the user.
Reaching $1M marks a milestone in the app's journey to support critical, on-the-ground nonprofit work.
"Tab for a Cause allows for the fact that amidst their busy everyday lives and competing financial responsibilities, people want to do good. This platform provides a valuable link between organizations with a diverse array of missions and individuals who believe in the work they're doing, so that we can deepen our impact together," said Hannah Ornas, Educate!. "We are so grateful for this partnership and the opportunities it has presented for refining and developing new solutions to prepare young people in East Africa for life after school."
Though it is effortless to use, the app's impact is astounding. The app's users, "Tabbers", have raised enough to protect over 5,000 acres of rainforest through Conservation International, provide access to clean water for over 12,000 people through Water.org, and give over 6,000 children a month of emergency nutrition through Save the Children.
2020 has been a year filled with disaster, and in response, Tabbers stepped up to provide emergency relief for wildfires in Australia and the United States, COVID-19 relief in the form of meals, medical supplies, and sanitation supplies, and funds to support racial justice causes including the NAACP LDF and Equal Justice Initiative.
Co-founder Alex Groth sees Tab for a Cause as part of a growing trend of online philanthropy. "We are all spending increasingly large amounts of time online, and the vast majority of the content is paid for by viewing ads. Tab for a Cause provides a free way to turn a small slice of that attention (and the corresponding ad revenue) toward essential causes. We want to show that helping others can be just as addictive and simple as scrolling Instagram or watching YouTube. We have been heartened to hear that many of our Tabbers go on to volunteer or even work at the non-profits they discovered through Tab for a Cause and hope to see that continue."
With online advertising spend surpassing $300B in 2019, there's a lot of money to go around. Just by surfing the web, Tab for a Cause users are making sure some of it goes toward a good cause.
"We are excited to partner with Tab for a Cause. Their unique and easy way of helping individuals to support organizations such as ours has made a real impact in our ability to further our work. They are an example of innovative philanthropy at its finest." - Gina Maya, Human Rights Watch