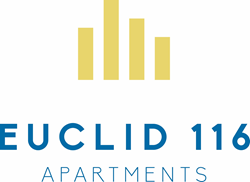 Cleveland, Ohio (PRWEB) December 16, 2020
Located at 11611 Euclid Avenue in the Uptown neighborhood of University Circle, Euclid 116 is a newly constructed, 5-story luxury apartment building comprising 89 student rooms and a ground floor retail tenant, Phusion Café, serving modern, Asian style cuisine.
Russell Berusch, President of Berusch Development Partners, thinks the all-inclusive nature of the property and leasing model will be attractive to students and young professionals looking for a low-stress lifestyle. "In conceiving the project, our aim was to accommodate upper class undergraduate and graduate students who want to live near campus in a walkable setting; have an easy, no-hassle arrangement with one rent payment covering furniture, internet and utilities; and the support of an in-residence community assistant and a skilled student housing manager," said Berusch. 
The property is professionally managed and leased by Signet Real Estate Group's Property Management Division. Kirsten Forde, Signet's RE's Director of Student Housing, is thrilled with the success of her team's pre-opening marketing and leasing efforts which have resulted in 100% of the units being fully-leased prior to opening. "Our team has done a tremendous job in the pre-opening to ensure that the property is fully leased when it opens. We are so excited for each of the new tenants to move in and join their awesome new community," said Kirsten.
Euclid 116 contains a mix of 1, 2 and 4-bedroom suites, each fully furnished and all inclusive, that house undergraduate and graduate students attending Case Western Reserve University, Cleveland Institute of Art and Cleveland Institute of Music, as well as other young, local area professionals.
Its University Circle location in Cleveland lies in the heart of a growing, vibrant community with plenty of walkable amenities and activities such as local restaurants, museums, shopping and world-class academic institutions.
The project is financed by Northwest bank, with support from the City of Cleveland in the form of a standard property tax abatement.
Visit http://www.Euclid116.com
Euclid 116 Apartments
Euclid 116, an all-inclusive, luxury student housing facility in the center of University Circle, was designed with students in mind. "Smart Suites for Serious Students" offer freedom and flexibility for undergraduates, graduates and professional students in Cleveland's most eclectic and engaging neighborhood. Visit Euclid116.com.
Berusch Development Partners
Our work is grounded in the philosophy that great physical spaces improve a community's quality of life and economic sustainability. Such places are geographic destinations where people want to live, work and connect. Berusch Development Partners thrive where creativity, analytical thinking, financial know-how, project management, and strong collaborations all come together. Visit Berusch.com.
Signet Real Estate Group
Signet Real Estate's Group's Property Management Division operates as a private asset and property management firm for captive and independent healthcare, commercial offices, multi-family housing, hospitality and retail properties. Our team focuses on building an inclusive management approach with owners to grow bottom-line revenues year after year. Visit SignetLLC.com.