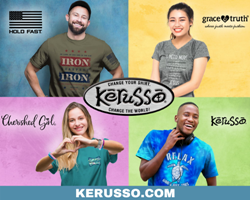 "Our success is tied directly to the success of our retail partners. When they're successful, we're successful — it's that simple. We've developed innovative programs to help retailers keep moving."
BERRYVILLE, Ark. (PRWEB) September 23, 2020
Kerusso Moves Further Up Prestigious Top-Sellers List to Top 5 as Sales of Apparel and Inspirational Products Rise. Kerusso, the world's largest Christian apparel company, continues its climb on sales charts as recognized by Giftbeat, the trade publication that tracks sales in the gift industry. The company now holds the No. 5 spot for top selling T-shirt lines in the United States!
Kerusso first made the list in 2018, making a leap from honorable mention the year before to a ranking of No. 8 in the "T-SHIRTS" category. The company continued their climb in 2019, achieving No. 6 nationally, and No. 3 in the South. The company now holds the No. 5 spot for T-shirts nationally. The announcement comes in the September 2020 issue of Giftbeat.
Kerusso's founder and CEO, Vic Kennett, is grateful for the increased success in the midst of a tumultuous year:
"People are looking for meaning in the products they purchase, especially in light of the personal challenges so many of us have faced this year. Sales of inspirational products are up across the board, and all of our products — apparel, accessories, and gifts — fall into this category." 
Kennett continues, "In addition to increased demand for meaningful messaging, our retail partners are reporting an increase in T-shirt sales. As more Americans work from home and spend more time in casual settings, quality, comfortable T-shirts are the uniform of choice for many of us. We're thrilled to be able to share products customers want and need, with encouraging messages they love sharing."
Kennett says the company is mindful of the unique challenges facing retailers this year.
"Our success is tied directly to the success of our retail partners. When they're successful, we're successful — it's that simple. We've developed innovative programs to help retailers keep moving forward, and our continued rise on the Giftbeat list is a strong indication that our partnership with brick and mortar retail drives our success."
Giftbeat is considered one of the leading trade publications of the gift industry, and utilizes a large network of reporting stores around the country. Stores complete a monthly questionnaire that asks them to rank their three top-selling items in eight rotating categories. Stores are then asked to report their top three lines in respective categories. Visit giftbeat.com.
Kerusso's flagship brand offers unisex T-shirts featuring faith-based themes, and the company has also successfully launched popular brands including Cherished Girl®, HOLD FAST®, grace truth®, Kerusso® Kidz, and Faith Gear®. Visit wholesale.kerusso.com or kerusso.com.
###
Kerusso is a Christian apparel company based in Berryville, Arkansas, which employs more than 100 people and is among the top employers in the area. The company was established with a small family loan in 1987, and has expanded into a leading supplier of Christian T-shirts and other apparel nationwide. Kerusso operates with the mission to proclaim the Word of God through products about Jesus Christ and the Christian message. The Greek word kerusso means "to herald or proclaim." For more than 30 years, Kerusso has proclaimed the message of Jesus Christ through Christian T-shirts, accessories, and gifts.
For more information, visit: wholesale.kerusso.com