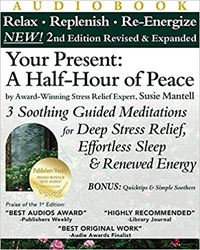 "Exquisite…a transformative, powerful collection of meditations…a lullaby for the soul." – AudioFile Magazine
NEW YORK (PRWEB) December 08, 2020
More Strung-Out Than the Lights on the Tree?
Burning Out Like a Hanukkah Candle?
Stress relief expert Susie Mantell's exquisite new guided meditation audiobook soothes away layer-after-layer of stress, anxiety, insomnia, loneliness and depression. With a voice described as "velvet," Your Present: A Half-Hour of Peace, 2nd Edition Revised and Expanded — 3 Soothing Guided Meditations for Deep Stress Relief, Effortless Sleep & Renewed Energy gently carries listeners into deep relaxation and restorative sleep.
Listen Now to Soothing Meditation Sample: https://www.relaxintuit.com/about-stress-cd-sleep-cd-audiobook/
Order on Amazon, iTunes, GooglePlay and Wherever Audiobooks Are Sold: (Available on Digital Download Audiobook and CD Formats.)
Synopsis:
"Sleep Easy Now" (Meditation)
Like an easy chair, Susie Mantell's exquisite narration carries listeners into deep, effortless sleep, soothing worry, insomnia, depression and pain from sleepless nights.
"10-Minute Brain Vacation" (Meditation)
Pressed for Time? An oasis from a busy day, slow down, and just let go. Relax, Replenish, Re-Energize — in 10 Minutes Flat!
"Your Present: A Half-Hour of Peace" (Meditation, Revised)
With a voice described as "velvet," this award-winning guided imagery meditation gently relieves isolation and loneliness in uncertain times, easing insomnia and anxiety.
BONUS: "30+ Quicktips & Simple Soothers"
Mantell also shares gently empowering stress relief tips and mindfulness techniques to lift spirits, calm day-to-day stress, ease caregiver fatigue, loneliness and offer comfort in eldercare for seniors. "Exquisite…a transformative, powerful collection of meditations… a lullaby for the soul," raves AudioFile Magazine.
[In Praise of the 1st Edition]

"Best Audios Award" - Publishers Weekly
"Highly Recommended" - Library Journal
"Best Original Work" -Audie Awards Finalist
"Bestseller" - Amazon.com
"...a gentle journey,floating worries and stress away." -The Los Angeles Times
"Superb relaxation narration..." -The American Pain Society, John D. Loeser, MD
"Excellent...very effective." -Strang Cancer Prevention Center, Daniel G, Miller, MD, President
"Peaceful imagery guides listeners into a calm, meditative state..." -Weight Watchers Magazine
More Honors & Critical Acclaim
Thoughtful, Affordable Holiday Gift of Peace in Stressful Times
Your Present: A Half-Hour of Peace, 2nd Edition Revised & Expanded is the uniquely thoughtful, cost-effective 'Present' for family and friends, devoted teachers, doctors, nurses and caregivers, essential workers, stressed-out students, co-workers... (and You.) Beautifully packaged for gift-giving, each cover also bears the gold "Best Audios Award" seal (Publishers Weekly.) Just tie a ribbon around it, and you're good-to-go.
About the Author:
Award-winning stress-relief expert Susie Mantell is the author of Your Present: A Half-Hour of Peace, 2nd Edition Revised and Expanded. Her techniques have appeared on NBC, ABC, CBS TV, in The Los Angeles Times, Town & Country, Weight Watchers, Cosmopolitan. Clients and listeners include The Mayo Clinic, The Betty Ford Center, The Coca-Cola Company, Verizon, Memorial Sloan-Kettering and renowned Canyon Ranch Health Resorts. Also a pop songwriter, Mantell's work has been heard Off-Broadway, at Carnegie Hall's Weill Recital Hall, in TV and film. More About Susie Mantell at https://relaxintuit.com
Follow @Relaxintuit Stress-Relief on Facebook & Twitter for Daily Stress Relief