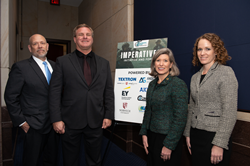 "Thank you for the imperatives document. This is as good a piece of staff work that I've seen, and it's in a format that's already ready to start discussions…We're going to take this document and work with it." -- Rep. Scott Peters
WASHINGTON (PRWEB) March 10, 2020
The Global Special Operations Forces (SOF) Foundation, which is the only professional association for the international SOF community, produces an annual SOF Imperatives document that highlights key issues for U.S. SOF in the areas of strategy; support to operations, training, and readiness; support to the force; maritime forces; land forces; and aviation.
This document has been distributed to congressional representatives and staffers since the initial document in 2015 in order to educate key leaders on these SOF topics. See the 2020 edition, along with past editions, here.
In 2020, the presentation of the SOF Imperatives Document came with its own focused discussion: the inaugural SOF Imperatives Forum. The event took place in February at the U.S. Capitol Visitor Center--a marble-pillared, regal-statued venue that you would hope to see in the capital of the U.S.
Speakers at the event included leaders from the Senate and House, specifically Sen. Joni Ernst (R-IA), Rep. Mike Waltz (R-FL), Rep. Jason Crow (D-CO), and Rep. Scott Peters (D-CA).
Sen. Ernst opened the event with an update on the Senate's outlook on special operations. She emphasized the importance of SOF, stating that, "We've seen SOF bring a unique blend of skill, tenacity, and capability that, when successfully employed, has an impact on mission success."
Representatives Waltz and Crow also discussed the bipartisanship that exists when they talk defense. "In the Armed Services Committee, we can roll up our sleeves and work across the aisle," Waltz said.
Rep. Scott Peters also provided remarks, holding up the 2020 SOF Imperatives document as he said, "Thank you for the Imperatives document. This is as good a piece of staff work that I've seen, and it's in a format that's already ready to start discussions…We're going to take this document and work with it."
U.S. Special Operations Command (USSOCOM) and its component commands were also represented by current and former leaders, including VADM Tim Szymanski, the Deputy Commander of USSOCOM; Lt Gen James Slife, the Commander of Air Force Special Operations Command (AFSOC); Lt Gen (Ret) Thomas Trask, former Vice Commander of USSOCOM; and LTG (Ret) John Mulholland, former Deputy Commander of USSOCOM.
An overarching theme of the day's discussions was finding the balance between the ongoing mission to counter violent extremism, while also ensuring that the U.S. and its partner nations are prepared to counter near-peer competitors.
Lt Gen Slife also provided valuable input on the "Light Attack Support for SOF" panel, stating that: "big" Air Force and USSOCOM "ended up completely aligned on the need for this capability," adding that we should, "expect them to move very quickly and rapidly to field [light attack support]."
One strong recommendation within the 2020 SOF Imperatives document is to elevate the role of the Assistant Secretary of Defense for Special Operations / Low-Intensity Conflict (ASD SO/LIC) to an Under Secretary position.
To that end, three former ASD SO/LICs participated on a panel discussing the role: Michael Lumpkin, Brian Sheridan, and Mark Mitchell. They shared their unique experiences and opinions with moderator Catherine Herridge of CBS News.
All of the speakers agreed that special operations needs a real "seat at the table," but that the downside of years of built-up bureaucracy is an opposition to change. But as Mr. Sheridan said,
"this administration should fill the billets that are already there, and work to elevate the special operations seat."
This was a milestone event for the Global SOF Foundation, thanks to the excellent speakers, sponsors, and the over 200 individuals who attended.
In order to get early information about future SOF Imperatives Surveys, Documents, and Forums, join the Foundation as an Individual Member.
Learn more here:
https://gsof.org/individual-membership/
The Global Special Operations Forces (SOF) Foundation (GSF) is a 501(c)(3) non-profit organization that aims to build and grow an international network of military, government, commercial, and educational stakeholders in order to advance SOF capabilities and partnerships to confront global and networked threats.
Company Website
https://www.gsof.org/