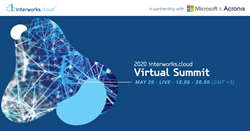 For the post-pandemic era, interworks.cloud will empower cloud solution providers to deliver new bundled solutions that will incorporate the 'remote' and everything-as-a-service philosophy to their offerings." Dr. Vassilis Zografos, Founder and CEO of interworks.cloud
LONDON (PRWEB) May 12, 2020
Some businesses have already survived the initial economic shock of Covid-19, while others are still struggling. Economic shocks don't come much bigger: investment banks predict US GDP will fall by around 7% this year – and the eurozone by up to 10%. And, like the virus, the shock is indiscriminate: airlines are burning through billions in cash, while old-style home baking booms.
One thing is clear though: tech companies will be the winners – especially those, like CSPs, that can provide the infrastructure and collaborative tools for the post-Covid economy. A successful player in the cloud ecosystem, will likely have drawn the same conclusion – and be determined to capitalize on it. But what does the road ahead look like? And how can someone navigate it when they haven't even had a minute to stand back, meet their peers and think strategically?
Award winning CSP platform provider interworks.cloud is leveraging its unique position at the heart of the cloud ecosystem to kick-start a dialogue that will enable anyone to do just that. An array of senior speakers will tackle the full range of topics on everyone's mind. What's more, they'll signpost business's way to success and growth in the new economy.
"The challenging times we are experiencing have disrupted and impacted the daily operations of businesses in an unprecedented manner. Companies will face a new reality where they will need to develop different sets of scenarios and adjust their strategies. For the post-pandemic era, interworks.cloud will empower cloud solution providers to deliver new bundled solutions that will incorporate the 'remote' and everything-as-a-service philosophy to their offerings" said Dr. Vassilis Zografos, Founder and CEO of interworks.cloud.
C-suite executives will elaborate on…

How major tech players are adapting to win in tough times
Why the pandemic is accelerating the digital transformation of small and mid-size business
How to reach more customers and close sales digitally – as customer experience and differentiation become critical
How cyber-security will move center stage, and how to assess if your web assets are safe
How scenario planning can help you navigate and the "must do" actions you have to take
…leading experts on…
How innovation and AI are leading the way – and raising their profile – in the fight against the pandemic
The pillars that cloud partners must focus on to capitalize on the boom in virtual collaboration
How hard-hit sectors like tourism can transform digitally to survive and even thrive
The challenges of remote working: what are the best tools and how to stay productive
How embracing paradoxes and contradictions can help us thrive and succeed
…and a range of speakers on other relevant topics.
"The coronavirus pandemic really highlighted how much the modern world relies on IT. Without reliable IT enabling remote work, few organizations could survive this crisis – and that's in addition to the operational, production, financial, marketing, and other vital functions they already rely on IT to complete. Yet the only reliable infrastructure is a protected one, which means safeguarding IT against today's threats is mission-critical. That is why Acronis is committed to providing cyber protection solutions that ensure the safety, accessibility, privacy, authenticity, and security of all data, applications, and systems," said Serguei Beloussov, CEO & Founder of Acronis.
The 2020 interworks.cloud Virtual Summit runs live and non-stop between 11.00 and 19.00 CET on May 20, 2020.
Connect to the whole event, or just join for the topics pertinent to your business. It's easy to register and free to attend.
View the full agenda and register now!