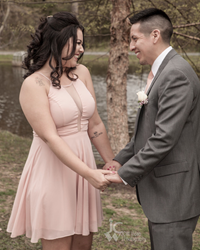 Facebook, dating sites and additional international platforms are becoming the starting point where love across borders begins...
LAS VEGAS (PRWEB) January 21, 2020
RapidVisa, the industry pioneer and most trusted online U.S. immigrant visa processing service, released a report that reveals lifestyle trends of American singles dating internationally and successfully finding love across borders. By examining how K-1 fiancé visa couples meet, the report dissects the popularity of meeting online, which dating sites and social media platforms rank highest for making love connections, and a surprising trend on the rise of couples meeting through online gaming.
As singles set relationship goals for the New Year, the data could help those who are seeking a long-term, committed relationship and not just a quick date – to have the right tips and tools to finally find the international mate of their dreams.
These dreams are becoming more of a reality as finding a mate internationally continues to be on the rise. The report shows that over the past 30 years, K-1 fiancé visa issuances have increased by 75%, and most recent Census data available reveals 21% of all married-couple households in the U.S. have at least one foreign-born spouse. Furthermore, the data shows that couples who date internationally are more likely to marry than those who date domestically – demonstrating that these couples are not just looking to play around but are seriously looking to play for keeps.
However, "play time" is not fully out of the picture, since one of the most shocking findings in the report is how couples are meeting through online gaming sites and not just online dating sites. In fact, the most popular games for finding an international mate through online gaming are ranked within the data.
Some of the other key findings in the report, include:

Over 55 percent of K-1 applicants first met online, mostly using a dating site which tend to emphasize the Asian region, in particular the Philippines.
Facebook supports over 80 percent of all social media meeting stories. The platform provides room for more diverse partnerships across the world, particularly in sub-Saharan Africa.
Facebook may be a medium for emotional expression in countries with limited freedoms, increasing its growth potential in this space.
Couples who met through online gaming are a quickly growing group. These couples trend younger, with many more fiancés from Europe or Canada. The UK, a fast-growing K-1 visa population, represents one fourth of fiancés in this space.
Meeting in person is also a common method for K-1 applicants, especially among Dominican, Mexican and Jamaican nationals.
Meeting through business, on vacation, or through friends and family tends to occur disproportionately with Latinx fiancés.
The top five destination cities where K-1 visa applicants met through a dating site are: Las Vegas, Phoenix, San Antonio, Los Angeles and Orlando.
"Facebook, dating sites and additional international platforms are becoming the starting point where love across borders begins, since they allow the diversity of relationships to flourish over thousands of physical miles," said RapidVisa founder and CEO, Ben Ives. "The trends observed are common to the larger story about dating in the United States and we believe this societal shift makes it likely that the evolving patterns explored in this report will continue into the foreseeable future."
The full report can be viewed here and is based on a proprietary random sample of 4,979 RapidVisa customers collected between 2010 and 2019. The report reveals emerging trends for this evolving subject of interest, made popular in mainstream media in recent years due to reality television shows such as TLC's "90 Day Fiancé."
RapidVisa offers a variety of non-lawyer immigration services for U.S. visa processing including the K-1 Fiancé Visa, CR1/IR1 Spousal Visa, IR2 Child Visa, IR5 Parent Visa, B1/B2 Tourist Visa, Adjustment of Status (Green Card), Removal of Conditions (Green Card), Renew or Replace Green Card and Naturalization (Citizenship).
About RapidVisa:
RapidVisa is an online-based service that streamlines the U.S. immigration process with technology and full-support. For over a decade, the company has provided low cost, full-service non-lawyer immigration solutions to more than 50,000 customers. Phone and chat support is available seven days a week for one all-inclusive fee. RapidVisa makes immigration less burdensome by streamlining the process and reducing the expense. By providing innovative software, high-quality multimedia content and world-class customer service, RapidVisa is America's leader in immigration. Headquartered in Las Vegas, RapidVisa has multiple offices in the Philippines and plans to expand into additional countries in the near future. For more information, visit RapidVisa.com and follow on Facebook, Instagram and YouTube.