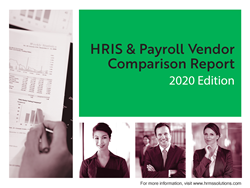 There continues to be evolution and disruption in the Payroll and HR software vendor landscape and the need to provide a consolidated assessment of prominent mid-market HR tech providers is greater than ever.
BOULDER, Colo. (PRWEB) April 09, 2020
HRMS Solutions, Inc. announces the release of their 2020 HRIS & Payroll Vendor Comparison Report. This annual report is one of the most widely requested and trusted publications available to assist HR, payroll and IT professionals with the evaluation of Payroll and HR software solutions and provide valuable direction in their research for technology to manage their workforce. The HRMS team of experts continually works to update this comprehensive evaluation resource and ensures the comparison report has the most up-to-date information from the leading vendors in the mid-market space. The 2020 Vendor Comparison Report is available by request from our website today.
"Global investments in HR technology reached an enormous $964 million in the third quarter of 2019 alone, with four deals crossing $100 million each", commented Mike Maiorino, CEO of HRMS Solutions. "This is just validation that there continues to be evolution and disruption in the Payroll and HR software vendor landscape and the need to provide a consolidated assessment of prominent mid-market HR tech providers is greater than ever." And at the time of this news release, Maiorino added "the uncertainty with the global economy impacted by COVID-19 health crisis will surely have an additional impact on HR technology industry as HR and business leaders struggle with the most devastating workforce management event in our lifetimes and HR tech vendors scramble to update their software to support their client's during this turbulence."
In Josh Bersin's 2020 Predictions: Reinventing Work, Reinventing HR, Reinventing Ourselves recent article, he states organizations "can no longer run HR without a serious focus on technology, and the options for HR Tech are more confusing than ever." He continues by adding "most HR departments are looking at new tools and many are becoming disenchanted with the cloud systems they purchased less than a decade ago."
"Combine the current unprecedented state of affairs, the massive 2019 private equity and venture capital firm investments in HR tech and Josh Bersin's insight, 2020 is shaping up to be a very interesting year for the HR tech vendor landscape", added Sandi Mundt, VP of Marketing at HRMS Solutions. "HR professionals continue to face the management of an overwhelming amount of people data, an increasing amount of pressure from their organization's leaders to extract the most value from their people related data, improve employee engagement, promote company culture, advance people development, create a more empowered and productive workforce to propel their organization forward all the while adhering to ever-changing Federal and State legislation and ethical standards."
The newly released side-by-side HRIS & Payroll comprehensive assessment report, aimed at small and mid-market sized businesses from 100 – 5,000 employees, enables a streamlined approach to quickly and effectively compare solutions by examining over 275 functional taxonomies (e.g. recruiting, onboarding, benefit administration, compensation planning, performance management, employee and manager self-service, career development, succession planning, reporting and analytics, global capabilities, deployment models, security and vendor support & training).
As long as the Payroll and HR software vendor landscape and HR technology ecosystem continues to evolve, we will continue to update and release revised editions of the vendor comparison report in an effort to educate buyers about HR, payroll and talent management technology so they can make informed decisions about the solution that is right for their organization.
Visit our website to request access to the 2020 HRIS & Payroll Vendor Comparison Report today.
About HRMS Solutions, Inc.
Founded in 2003, HRMS is a human capital technology advisory, implementation and consulting services firm enabling mid-market companies throughout the U.S. and Canada to manage, empower, engage and optimize their workforce with leading HR, Payroll, Time and Talent Management solutions.
As a selective group of experienced professionals and certified HR technology specialists, our mission is to serve as a trusted advisor to prospects and clients seeking new solutions to their human capital challenges. Our promise of integrity, objectivity and credibility ensures the absolute best experience when evaluating, acquiring and implementing people management solutions.
We believe in delivering successful projects — and delivering them the right way!