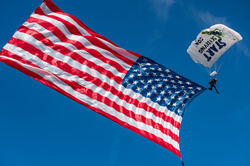 GALENA, Ohio (PRWEB) August 14, 2020
Saturday, August 15, 2020, at 11am, the Columbus Chapter of Pilots for Kids is holding their Annual 2020 P4K Golf Outing at Royal American Links, Galena, OH.
As part of the festivities Team Fastrax™ will perform a patriotic air show with their large American Flag, and a red, white and blue streamer.
"We are honored to be part of this amazing charity event," commented John Hart, owner of Start Skydiving, and Founder of Team Fastrax™. "Pilots for Kids is a wonderful organization and we hope the event is a success."
According to the Pilots For Kids website, the entry fee is $100 per player with teams of four preferred. Games will include a raffle, silent auction, long drive contest, closest to the pin challenge and more. Registration begins at 1100ET. All proceeds will benefit the Homeless Families Foundation. Each participant will be asked to wear a face covering, and venue management has requested the number of teams be limited to 21. Organizers will ensure teams are seated together at tables no fewer than six feet apart for dinner.
Team Fastrax™ dedicates every performance to a fallen hero. They may be gone but are not forgotten. This performance by Team Fastrax™ is dedicated to Sgt. 1st Class Reymund R. Transfiguracion.
ABOUT TEAM FASTRAX™
Team Fastrax™, sponsored by SELECTiON.COM®, is the most ambitious professional skydiving team in the world. The team has a roster of more than twenty-nine active members, with a collective of more than 300,000 skydives. Team Fastrax™ has performed exhibition skydives all over the world for audiences large and small as a patriotic display or as a product promotion.
ABOUT SELECTiON.COM®
SELECTiON.COM® is a nationwide provider of criminal and pre-employment background screenings, also referred to as a Consumer Reporting Agency. Headquartered in Cincinnati, OH, SELECTiON.COM® is a veteran-owned company that has been in business since 1991 and offers more than 35 background and data collection services.