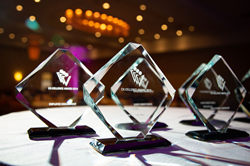 "Full Sail Partners constantly monitors client feedback through the Client Feedback Tool and knows that a positive client experience can create repeat business and loyalty...the real power of obtaining client feedback is when clients know you will take the suggestions, learn and apply them."
STEAMBOAT SPRINGS, Colo. (PRWEB) October 19, 2020
Full Sail Partners is excited to announce that it has been chosen again as a recipient of the 2020 Premier Award for Client Satisfaction by PSMJ Resources and Client Savvy, creator of the Client Feedback Tool. This impressive recognition is given to firms in the AEC industry who have gone above and beyond to deliver a truly exceptional client experience. Full Sail Partners is proud of its commitment to provide client-focused technology solutions and services always considering what would work best for each individual firm.
The Premier Award for Client Satisfaction winners are chosen using data from survey data from over 300 firms. Based upon the surveys, firms which really stand out regarding client feedback are given this prestigious distinction. Award recipients are honored at the 2020 PSMJ A/E/C THRIVE – The Growth, Profit, and Performance Summit on October 14-16th which is held live and online this year.
"Full Sail Partners constantly monitors client feedback through the Client Feedback Tool and knows that a positive client experience can create repeat business and loyalty. However, it's important to ensure the purpose of the feedback is always be about the client. The real power of obtaining client feedback is when clients know you will take the suggestions, learn and apply them," stated Sarah Gonnella, VP of Marketing and Sales. "We are greatly honored to be one of only 25 firms to be recognized with this Premier Award for Client Satisfaction and continue to look at ways we can improve."
For more than 40 years, PSMJ Resources, Inc. has been recognized as the leading publishing, executive education, and advisory group devoted completely to improving the business performance of A/E/C organizations worldwide.
Client Savvy works with professional services organizations whose success depends on strong client relationships. Their commitment to clients is to help them align their client experience (CX) strategy, implementation, and measurement initiatives with their top strategic priorities.
"Since 2009, Client Savvy has partnered with PSMJ to recognize the professional services firms around the globe that achieve the highest standards of excellence by the metric hardest to achieve: excellence recognized by a firm's clients. Of the hundreds of firms that participate in this benchmarking each year, only the top 30 are recognized. Full Sail Partners began their journey several years ago and has now been recognized three years in a row. Full Sail Partners' sets the bar by asking for more feedback per staff consultant than any firm we've encountered," stated Ryan Suydam, Chief Experience Officer at Client Savvy.
About Full Sail Partners
Full Sail Partners provides client-focused technology services and solutions for more than 1,000 professional services' firms nationwide. As a Deltek Partner, SAP Concur Diamond Partner, and the creators of the Blackbox Connector, Full Sail Partners helps project-based firms fully integrate their business processes and improve their business intelligence capabilities. We seek to help organizations identify the critical resources needed to create a faster, more efficient, and cohesive business infrastructure.
Full Sail Partners – Keep Your Business on Course. | For more information, please email Full Sail Partners' Marketing Communications Department or visit the Full Sail Partners' website at https://www.fullsailpartners.com/.