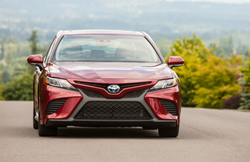 PUYALLUP, Wash. (PRWEB) September 28, 2020
As a midsize sedan, the 2020 Toyota Camry has several features and options to provide a fuel-efficient vehicle for daily commutes and long road trips. This can be said of the 2020 Toyota Camry and 2020 Toyota Camry Hybrid models, which offer lengthy drives on a single tank of fuel. Currently, those interested in purchasing or leasing a fuel-efficient model can find over 60 new 2020 Toyota Camry models in the Toyota of Puyallup inventory.
The 2020 Toyota Camry has several engine options and drivetrains that optimize fuel economy. Standard models receive up to an estimated 28 miles per gallon on city roads and 39 miles per gallon on highways. A second 3.6-liter engine is available, which retains a combined estimated 26 miles per gallon. Unlike some other sedans in its class, the 2020 Toyota Camry also has available all-wheel drive. With the feature equipped, models can receive up to 25 miles per gallon in the city and 34 miles per gallon on highways.
Meanwhile, those looking for an even more environmentally friendly model are welcomed to view the 2020 Toyota Camry Hybrid model at Toyota of Puyallup. The dealership has over 20 different models to choose from. As a whole, the vehicle receives up to an estimated combined 52 miles per gallon with its 2.5-liter hybrid powertrain. Models also come equipped with a four-mode drive switch that allows drivers to select different driving modes to optimize performance.
With their new 2020 Toyota Camry inventory, Toyota of Puyallup is also holding several offers that could help customers with their vehicle shopping needs. The dealership currently has a 0% APR financing offer for 60 months. Meanwhile, customers may be able to receive more money on a trade-in than expected due to the shortage of used vehicles in the area. Those interested can schedule a complimentary appraisal of their current vehicle through the dealership to learn more.
For more details on the available offerings and details on 2020 Toyota Camry models, those interested are welcomed to contact Toyota of Puyallup. They are located at 1400 River Road in Puyallup, WA, and can also be contacted by phone at 253-286-6000 or online at their website at https://www.toyotaofpuyallup.com/.