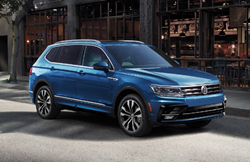 MCMINNVILLE, Ore. (PRWEB) January 29, 2021
As the 2021 model year has begun for most Volkswagen models, the McMinnville Volkswagen dealership is promoting its stock of new 2020 model year Volkswagen models to open space for incoming 2021 Volkswagen vehicles. Some of the most popular Volkswagen models are part of the sale.
There are six new 2020 Volkswagen Jetta models still available, including both Jetta powertrain models. These models include two 2020 Volkswagen Jetta 1.4T S w/ULEV models, one 2020 Volkswagen Jetta 1.4T S Auto w/ULEV model, two 2020 Volkswagen Jetta 1.4T SEL w/ULEV models, one 2020 Volkswagen Jetta 1.4T SEL w/ULEV and one 2020 Volkswagen Jetta 2.0L GLI Autobahn DSG model. These models range in price by more than $10,000.
For shoppers seeking a larger sedan than the Jetta, the dealership does have a silver-painted 2020 Volkswagen Passat 2.0T SE model participating in the sale.
One hatchback is part of the sale as well. A 2020 Volkswagen Golf 1.4T TSI is available and priced below $20,000. This model is painted dark blue.
A single crossover SUV remains available for the sale. This is a 2020 Volkswagen Atlas Cross Sport 2.0T SEL model that is painted black.
Since many 2020 models have already been sold, most new vehicles currently on the lot at McMinnville Volkswagen belong to the 2021 model year. Shoppers who find that their model of choice is not included in the sale are encouraged to review the dealership's stock of 2021 models as well.
Car buyers looking to learn more about this sale and any other information about the McMinnville Volkswagen dealership can get in contact with a representative online, over the phone at (877) 721-5794 or by visiting the dealership in-person at 1920 NE Highway 99W, McMinnville, Oregon, 97128.