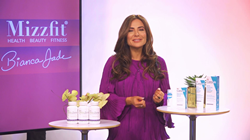 Everyone wants to start the year off strong but keeping resolutions into February and beyond can be difficult. The best advice is to keep resolutions specific and to set realistic goals.
NEW YORK (PRWEB) December 31, 2019
The New Year, as always, is an exciting time, brimming with the promise of fresh starts and new beginnings. It's also an opportunity to recommit to health and well-being: Eat better, exercise, drink more water. For many, it's the same routine every year. Creating these resolutions is easy enough. Sticking to them beyond the month of January, however, is another story. Recently, TV Host and and Wellness Expert, Bianca Jade, teamed with RiduZone, CeraVe and YourUpdateTV to share her tips on making and keeping healthy resolutions in 2020.
A video accompanying this announcement is available: 60 SECOND VIDEO
Most people around the world make the same New Year's resolutions year after year. This year, the most popular resolutions include old standbys like getting healthy, going to the gym, travelling more and saving money.
Everyone wants to start the year off strong but keeping resolutions into February and beyond can be difficult. The best advice to keep resolutions specific and to set realistic goals.
Losing Weight in 2020
The fact that losing weight is among the most popular resolutions year after year suggests just how difficult it is to commit to. Everyone wants to see results yesterday. Things just don't work that way. Plan for bumps in the road and stay committed to eating healthy and sticking to a good exercise regime. Even something as simple as walking for at least 30 minutes a day can go a long way.
But as a complement to a healthy diet and fitness program, check out RiduZone, a nature-based weight management supplement that is formulated to really help people hit those resolutions. It contains a naturally existing metabolite of olive oil that our bodies produce, working to boost metabolism and cut down on those unwanted food cravings that we have throughout the day - those same food cravings that can ruin a New Year's diet.The best part is that it doesn't make you feel jittery or bloated and it's a helpful boost for anyone looking to get in shape or lose weight in the New Year.
Skincare Goals
Most New Year's resolutions include some goal to be healthier, but there's one health aspect that always seems to get overlooked: skincare. So, when contemplating what to aim for in 2020, be sure to make some New Year skincare goals.
One of the most common skincare concerns? Acne. Acne is something that affects millions of people nationwide. In addition to the visible marks on skin, it can also impact confidence.
That's why CeraVe has an effective regimen of products that were developed with dermatologists and formulated with three essential ceramides to help treat and heal acne, while restoring the skin barrier and locking in hydration. The Acne Foaming Cream Cleanser is formulated with 4 percent benzoyl peroxide and works to clear and treat acne and blackheads, while also preventing new acne from forming, allowing skin to heal. And to help reduce the appearance of those post-acne marks and pores, check out the Resurfacing Retinol Serum, which contains encapsulated retinol, licorice root extract and niacinamide to help reduce these marks, while also resurfacing the skin and improving skin texture.
For more information, visit Riduzone.com and - CeraVe.com
About Bianca Jade
Bianca Jade is a mid-western, Latin born TV host and lifestyle personality. She's also known as "Mizzfit" from her online fitness destination Mizzfit.com, where wellness meets style. Bianca graduated from Cornell University and pursued a successful career as a creative art director and copywriter before launching her own company. She currently forecasts and reports on emerging trends in the health world for national syndications such as the Today Show, CBS morning news, Dr. Oz, People Style Watch and more. Bianca also works as a beauty expert and educator on home shopping networks like Evine as well as tuStarshop where she hosts in Spanish. She selectively partners with health, fitness and beauty brands to promote campaigns that align with her healthy living values. Creating inspirational and engaging content for her followers is what she loves to do, in addition to curating her popular subscription mailing, the Bianca Jade Quarterly Box. Bianca is an advocate of female empowerment, transformation and living a fashionably fit lifestyle.
About YourUpdateTV:
YourUpdateTV is a social media video portal for organizations to share their content, produced by award-winning video communications firm, D S Simon Media. It includes separate channels for Health and Wellness, Lifestyle, Media and Entertainment, Money and Finance, Social Responsibility, Sports and Technology.