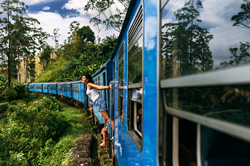 Travel is the ultimate experience. It has the power to connect and bind us together more than almost any other thing in life.
CORAL SPRINGS, Fla. (PRWEB) November 19, 2019
The year 2020 will be a year of new beginnings, renewals, opportunities and a year of travel discovery and exploration.
"The constant FOMO (Fear of Missing Out) is very real and afflicts many travelers and aspiring travelers especially with the 'Insta-effect' of today's social media driven generation," says Michelle Fee, CEO and founder of Cruise Planners, an American Express Travel Representative. "Instagram has changed how people are traveling."
As a result of FOMO, travelers are now moving toward JOMO (Joy of Missing Out) by switching off their devices to take a digital detox and staying off social media accounts for short periods of time. They realized the constant fear of missing out and racing through as much as possible is actually making them miss out on their own lives
#1. The Art of Slow Travel
In 2020, responsible travelers will focus on sustainable travel. Not only does our sense of time speed up as we age, travelers want time to slow down to make the most of each moment of their vacation. They would rather focus on an unforgettable journey, like taking a longer scenic route on iconic trains (think Venice Simplon-Orient Express, Royal Scotsman, Golden Eagle Trans-Siberian Express, Blue Train), exploring second-city or lesser known cities to limit their impact on the environment (Osaka instead of Tokyo, Marseille instead of Paris, Belfast instead of Dublin), and are looking for ways to disconnect on castaway vacations – a getaway to secluded islands (Vieques Island off mainland Puerto Rico, Salema that is three hours from Lisbon, Portugal, or Vinh Hy Bay that's away from busy Hanoi, Vietnam).
#2. Location Vacation
Nothing beats watching a good movie or show, especially when it to takes viewers to corners of the earth they've never seen before where breathtaking scenery transports them to other worlds with the power to make them believe in magic. Travelers are set-jetting to iconic locations inspired by their favorite movies or shows. The hit HBO show "Game of Thrones" was filmed in Croatia, Spain, Iceland, Northern Ireland and other stunning destinations, "Crazy Rich Asians" inspired travel to Singapore and Malaysia, while "Star Wars" alien worlds of a galaxy far, far away can be found in real-life in Norway, Spain, Ireland and other beautiful locations.
#3. Tasty Travels
The power of food brings people together no matter where they are in the world. Not only does it provide nourishment, but it's also a true bonding experience and a way to learn about people with different traditions, culture and heritage. Culinary travel is truly the universal "language" and a way for travelers to have an authentic experience. There are cooking classes, eating in locals' homes, visiting the vibrant street food scene or food truck craze, Michelin-starred restaurants, underground restaurants and supper clubs, pop up dinners at unusual locations with guest celebrity chefs, farm-to-table visits, truffle hunting and more culinary experiences.
#4. Family Ed-Venture
Family vacays have changed and emerged as nomadic sabbaticals. Families are packing up their life to make their family mobile and setting off on an adventure to see the world. With the advancement of technology to be able to work remotely (and quit your 9 to 5) and the rise of homeschooling and virtual schools, the dreams of traveling the globe for an extended trip is now possible. Families have the freedom to hop from destination to destination. Not only do families get to spend more time together, but parents can also educate and expose their children to different cultures and traditions to help them become better global citizens.
#5. Glorious "Gramping" Getaways
Skip-gen (skip-a-generation) travel, grandcation or gramping isn't new, but demand is growing as more grandparents are looking forward to traveling alone and creating memories with their grandchildren while leaving their children (the parents) at home. Travel companies are taking notice and have expanded their family-friendly programs with special activities appealing to a diverse range of interest and fitness levels. Expeditions with children to Galápagos or Antarctica was once unheard of and is poised to take top spot in adventure travel, while an African sojourn will remain a favorite milestone trip because there is something unique about going on a safari and seeing animals up close. These types of trips are inspiring curiosity as more children are becoming global explorers and traveling with their grandparents.
The Next Generation of Travel
At the dawn of a new decade, a whole new generation of globetrotters are coming to age. Specifically, Gen Z travelers born between 1995 and 2015 are now between 5-25 years old.
As of 2020, the breakdown of age looks like this:

Boomers born between 1944 and 1964 are between 56-76 years old
Gen X born between 1965 and 1979 are between 41-55 years old
Gen Y a.k.a. Millennials born between 1980 and 1994 are between 26-40 years old
Each generation's traveling style is wildly different from the previous generations. Baby Boomers tend to stay closer to home, X'ers enjoys adventure and luxury travel, Millennials demand memorable moments and authentic experiences, while today's youth, the Gen Z's are budget conscious and trying to make a difference in the world.
Fee adds, "Travel is the ultimate experience. It has the power to connect and bind us together more than almost any other thing in life. A veil is lifted every time we travel and interact with others who are not that much different from ourselves. Let 2020 be your year of travel discovery and exploration."
Feeling inspired? Find a travel advisor near you to book your next adventure. Cruise Planners Travel Advisors are located in all 50 states in the U.S.
Stay in Touch: Media can stay up-to-date with Cruise Planners by visiting our media room or Socially Yours page for social media updates and handles. For additional information or to make reservations, vacationers should locate a travel advisor near them. For those interested in becoming a franchise owner, please visit the Cruise Planners franchise website.