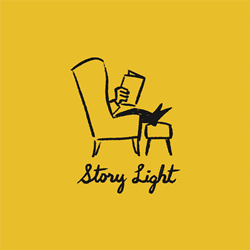 NEW YORK (PRWEB) February 03, 2021
Discord on Saturday, February 6th, (6-8pm ET) - The StoryLight Podcast, in which top acting talent from around the globe retell favorite childhood classics, will host a live recording event on the platform Discord, with opportunities for audience participation and an audio-visual glimpse into the exciting process of audiobook narration.
Accomplished audiobook narrator and producer Byron Wagner-- will invite us into his professional home studio and lead us through a recording session of the next StoryLight Podcast episode of Jack London's White Fang. StoryLight producer Gail Shalan will moderate questions on the chat. Live feedback and participation will be encouraged. Suggestions from attendees will impact the final released episode. The audience is free to come and go as they please throughout the event.
"People listening to this are actually participating live, and something they say can literally change the course of how this project goes. That's tremendously compelling," said Wagner. "People who liked audiobooks could come and visit the sausage factory." "Narrators can also come listen to somebody else do it, and that was really important to me," he added. "This isn't something that you normally associate with the art of audiobook narration."
This unique event will take place on Discord, the breakthrough instant messaging and digital distribution platform designed for creating communities, in the Narrator's Nook server where over 800 narrators, authors, and audiobook lovers share live readings and audiobook-related conversation.
The creative team behind the event includes esteemed voice, stage and screen actors, directors, producers who will use their talents to create a virtual community space, an educational opportunity, and a live performance experience, to bring storytellers and listeners together in a time of isolation.
This event is sponsored by the groundbreaking spoken word software company, Pozotron.
About The StoryLight Podcast
The StoryLight Podcast is an immersive listening experience for the whole family, bringing light, joy, and the comfort and escape of a great story to listeners of all ages all around the world.
To date, 13 beloved classics such as Peter Pan, The Wind in The Willows, Anne of Green Gables and Sherlock Holmes have been streamed more than 13k times by listeners from across the U.S., the U.K., Australia, Belgium, and Denmark.
The StoryLight Podcast is available for free on iTunes, Spotify, and Soundcloud.
Follow the Storylight social media accounts for updates and simple instructions on how to join Discord if you are not already on the platform or visit us at https://www.storylight.net/events. Contact Information: The StoryLight Podcast Gail Shalan - Producer gailshalan@storylight.net http://www.storylight.net (F) The StoryLight Podcast . (IG) @storylight_podcast . (T) @storylight_pod