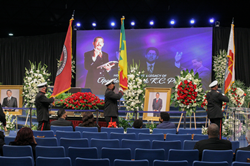 "While our hearts are heavy, we are comforted by these supportive actions," says Angela M. Evans.
LOS ANGELES (PRWEB) March 12, 2021
Last Thursday and Friday, hundreds emerged to pay homage to the memory of Pastor Frederick K.C. Price, founder of South Los Angeles' Crenshaw Christian Center.
The two-day public viewing was both somber and celebratory as mourners from across the county and the nation participated in a protocol-enforced observance. Amid COVID-19, safety experts and church officials executed strict codes of conduct to ensure the well-being and confidence of attendees. A 29-minute video montage of Price's decades-long teachings played on a loop, while a commemorative keepsake book of family letters, ministry moments and photos were handed out as visitors advanced to the closed casket.
On Saturday, an intimate family and close family friends memorial service was held. Over 64,000 tuned in via live stream as several elected officials, faith leaders, and sons in the faith remembered Price as a highly disciplined, teacher and scholar whose practical unpacking and application of the bible resonated with in-person congregants and viewers of his own created TV vehicle, Ever Increasing Faith Ministries. To date, the service has been viewed over 309,000 times.
As a Black pastor whose ministry was coming of age in the 70s, the TV broadcast enabled him to reach viewers across the globe and spawned a plethora of young Black pastors seeking spiritual growth and guidance beyond accustomed preaching. Price's demeanor was controlled, resolute and authoritative, devoid of high emotion. This decided approach was clear, precise and swiftly embraced. The 89-year-old innovator was the author of over 50 books on Christian living and served as the original example of Black Excellence with his signature put together look, including an Afro with every hair in place and bible in hand.
As part of Saturday's remembrance, Los Angeles City Mayor, Eric Garcetti, sent a touching video tribute. Congresswoman Maxine Waters, Los Angeles Board of Supervisor Janice Hahn, and Los Angeles City Council President Emeritus, Herb Wesson, attended to address the in-person and virtual audience. Remarks continued by eldest daughter and President and CEO of Crenshaw Christian Center, Angela M. Evans, Dr. William M. Wilson, President of Oral Roberts University where Mrs. Evans serves as a board member, and others, including martial artist, Billy Blanks, Dr. Kenneth W. Hagin, Jr., Dr. Jerry Savelle, Dr. Creflo A. Dollar, and Apostle Michael A. Freeman, who gave the eulogy — to name a few.
Beyond the public way Price was known, central to his life was his unique devotion to his family. He was an unapologetic doting husband and father who served as a positive role model for countless others.
Price's widow, Dr. Betty R. Price and the entire Price Family are grateful for the outpouring of expressions of love, prayers and support during this very difficult time.
"While our hearts are heavy, we are comforted by these supportive actions," says Angela M. Evans. News of ways to further commemorate Price's legacy for community benefit will be announced in the future.
About: Crenshaw Christian Center (CCC) and its broadcast, Ever Increasing Faith Ministries, has been a hallmark of the local and global faith community and beyond for nearly 50 years. CCC has a long history of service to Southern California and South Los Angeles in particular, supporting local residents via emergency preparedness fairs, food and toy drives, and a plethora of community benefit activities. It was one of the first established COVID-19 test and vaccination sites in Los Angeles to proactively address access equity gaps. Today its impact continues under the leadership of Pastor Fred Price Jr. More at http://www.faithdome.org.