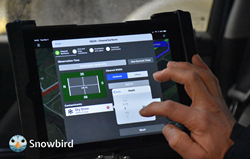 Snowbird Ltd. has released a free interactive Global Reporting Format (GRF) training tool for use by runway inspectors in preparation for ICAO's Global Reporting Format (applicable on November 4, 2021).
WATERLOO, Ontario (PRWEB) March 24, 2021
In an industry first, Snowbird Ltd. – a Canada-based developer of runway reporting software – has released a free interactive Global Reporting Format (GRF) training tool for use by runway inspectors.
The GRF – a reporting standard introduced by the International Civil Aviation Organization (ICAO) – comes into effect on November 4, 2021. Airport Movement Surface Condition Reports (AMSCRs) submitted by runway inspectors make their way to pilots via NOTAMs, which pilots then use to safely land the aircraft.
"The GRF is a great step forward in standardizing runway reporting, but with it comes added complexity for runway inspectors", says Ernest Surudo, President of Snowbird Ltd. "As we have been working on an update to our successful runway reporting application which has been in use since 2012, we realized that some of our work could be helpful for training purposes, so we have decided to share it free of charge, for the benefit of the aviation industry."
A key component of GRF is the Runway Condition Code (RWYCC) – a value between 0 and 6 determined by runway inspectors, which is used by pilots in calculating runway length and braking required for safe landing. The RWYCC calculation is a deterministic process which uses the conditions of a particular runway portion as inputs.
"Determining the runway condition code for a runway portion means following a somewhat involved flow chart, which can leave its determination prone to error", says Surudo. "Basically, it is a perfect candidate for something that can be done with software to help ensure accuracy of the RWYCC that is communicated to pilots – so we have done just that. In addition to being made available online for training purposes, the same logic is already built into our Snowbird reporting software".
As the global aviation industry prepares for the implementation of GRF, Snowbird Ltd. (http://www.snowbird.aero) hopes that airports worldwide will benefit from their online RWYCC calculator training tool.
The Snowbird Global Reporting Format RWYCC Calculator is available online free of charge.