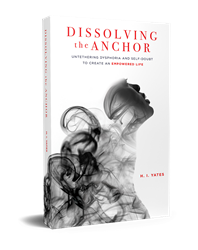 I wrote this book for those of you who are ready to save yourself.
DENVER (PRWEB) April 08, 2021
"Heal my wounds and let my fading scars be stories of my triumphs…"
Luv Mrk founder H. I. Yates is releasing her new book Dissolving the Anchor on May 18, 2021. Written to encourage people to overcome life challenges, Yates gives a real and raw look of how loneliness, believing she didn't matter, and experiencing certain trauma and adversities led to substance use and a suicide attempt at age 16. Detailing how she overcame that struggle to definitively value herself, the book acts as a guide to building a life you choose throughout adulthood.
Part memoir and part self-help guide, Dissolving the Anchor: Untethering Dysphoria and Self-Doubt to Create an Empowered Life, uses touching storytelling, inspiring poems, and striking original artwork encouraging you to be aware of your ability to manage adversities, minimize self-sabotaging behavior, and replace destructive thoughts with an empowering mindset.
"I wrote this book for those of you who are ready to save yourself. Ready to replace a destructive mindset with a new authentic, positive internal dialogue; stop the judgment of others from influencing your self-esteem, identity, and inner peace; practice self-care methods to fight vacant-spirit feelings that weigh you down; and have true, lasting joy that doesn't depend on temporary highs of relationships or material items."
Release the heavy links of the anchor holding you back from happiness. Dissolving the Anchor will help readers transform those links into wings that will empower them to be free to fly and embrace their truth.
Dissolving the Anchor will be available for pre-sale starting April 12, 2021 and launches for wide distribution on May 18, 2021. The book is available on major retailer online stores including Amazon, Barnes & Noble, Bookshop.org and other retailers.
For more information on Dissolving the Anchor and author H. I. Yates, contact Hailima at 720-788-3896 or author@hiyates.com. Stay up to date on the latest news and receive quick tips for dissolving your anchor at, https://www.dissolvingtheanchor.com and https://www.instagram.com/hiyates/ and https://www.youtube.com/c/LuvMrk.
About the Author:
Hailima I. Yates is the CEO and Founder of Luv Mrk, a coaching company providing customized transformative workshops, events, and multimedia productions on self-empowerment, social, emotional, and mental wellness, and diversity, equity and inclusion. A transformational speaker and mindset coach, her clients include non-profits and national and international companies embracing positive self-identity, recidivism prevention, and an inclusive and equitable work environment. In 2017, Hailima founded Luv Mrk to inspire others to recognize their power to transform themselves to positively impact their life and their community.