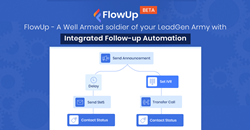 "FlowUp is a great platform to bring into existence in constantly changing and upgrading Marketing World. We are proud to announce the Beta Launch of The New age Omnichannel Communication platform that serve all Marketers and Sales team and helps them to grow with Automated Follow-up System"
SAN FRANCISCO (PRWEB) April 13, 2021
After a successful beta launch in March with high marks from early adopters, the founders of the new SaaS sales engagement platform FlowUp announced they are moving forward with the next phases of development.
FlowUp is a sales engagement platform that helps marketers and sales teams convert more leads with less effort. Through its omnichannel follow-up automation capabilities, users can manage and design both inbound and outbound communications from a single platform, which expedites the lead nurturing process and helps create a seamless customer journey.
In the First Phase,FlowUp launched with multiple outreach channels like

Voice
SMS
MMS
Telesurvey
Ringless voicemail
Now, the second phase of development is underway, as the team adds more communication channels including,

Email
Facebook Messenger
WhatsApp
SMSbot
AI-driven conversation channels.
Future development work will lead FlowUp to serve as an AI-powered platform that assesses and determines which leads to follow up with, when, and on which channel based on past performance data.
FlowUp founder and CEO Jay Thakkar said, "Over the years, I've watched so many marketers miss opportunities and sales. Whether it's because they're doing outreach from just one channel or wasting their time reaching out to the wrong people, I wanted to create a solution that helps them work smarter, not harder. FlowUp is a huge step in that direction, helping our users systematize their approach to lead nurturing and customer communication."
"I believe this is the dawn of follow-up automation like we've never known it before," Thakkar said. "I am proud to be at the forefront of this movement."
FlowUp is currently still in beta, and it is available to the public. Beta users receive a free $100 credit to use on the sales engagement and follow-up automation platform. Users can claim their free credit by signing up on the company's website, http://www.flowup.com.
About FlowUp was created by the team at LeadsRain, who has provided top-tier communication services to contact centers since 2013. FlowUp is the newest evolution of automated lead nurturing, with multiple communication channels and features available from a single dashboard. FlowUp integrates with users' existing CRM software without any coding requirements for setup. For more information about the new platform, visit FlowUp's website, https://flowup.com