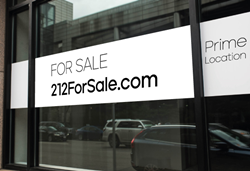 The domain name 212ForSale.com epitomizes the gold standard of what any person would want with respect to marketing for real estate professionals in New York City
HARTFORD, Conn. (PRWEB) April 29, 2021
Area Code Domains, Inc. a leader in selling business driven area domain names is excited to announce the highly prized domain 212ForSale.com is available for purchase. It is known that the best websites first start with a memorable domain name.
212ForSale.com has the unique protean ability to apply to real estate firms, property management companies, property owners, real estate developers, real estate brokers or salespeople in Manhattan, NY.
The right domain name is a powerful tool that can lead customers to a specific website and create instant brand recognition. According to R.Singer, CEO of Area Code Domains, "The domain name 212ForSale.com epitomizes the gold standard of what any person would want with respect to marketing for real estate professionals in New York City."
Mr. Singer also added, "212ForSale.com is a domain name that is instantly remembered by the millions of people who live and work in the same area code. Furthermore, the area code 212 is truly known on a national basis."
This hyper-localized area code-driven domain name is a digital asset that can be a powerhouse in the exclusive Manhattan real estate market. 212ForSale.com is branding made easy. The marketing possibilities are endless for anyone who acquires 212ForSale.com. This targeted domain is limitless in its ability to fit a business or transcend other industries and not just real estate.
Having a location-specific domain has several advantages. It can drive web traffic and help with SEO. Further, an area code driven domain name can lessen marketing costs due to easy reference and memory recall and create brand awareness.
Purchasing an area code-specific domain name does not require a change or rebranding of a business already in existence. Even if you already own a domain name you can use 212ForSale.com to redirect users to your existing website, a specific web page or even a new site altogether, the choice is yours!
ABOUT AREA CODE DOMAINS
Area Code Domains, Inc. focuses on helping businesses grow, brand, and market through location-specific driven domain names with purposeful keywords. They provide entrepreneurs and business owners the opportunity to purchase with well-researched and easy-to-remember domain names. The principals are seasoned business executives with expertise in multiple verticals.
Visit http://212ForSale.com or https://AreaCodeDomains.com to learn more of find other premium domain names that fit your business.