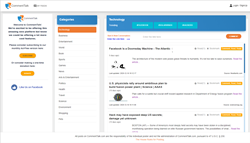 "President Trump has called for the complete repeal of Section 230 instead of fixing the main problem, having the FCC remove repeated violators protected 'platform' status," says Founder Roger Braun.
SEDONA, Ariz. (PRWEB) January 05, 2021
A small internet start-up is on a mission to revolutionize the internet with its new launch of CommentTalk, a public town square social media platform. The aim of CommentTalk is to bring back free speech by offering a Section 230 based platform that allows users to attach comments to any webpage. Users simply copy/paste the URL into a category to start a conversation about a specific web page's content. The CommentTalk BETA release launched on 12/3/2020.
Watch the video at https://youtu.be/FYaTDTwVR8U to see how CommentTalk works.
CommentTalk has three innovative characteristics that differentiate it from other social media platforms:

It allows for commentary on any website, even websites that don't have comments enabled.
Users can add donation or payment links to their profiles and earn fan money from their commentary.
CommentTalk has a free Chrome Browser extension which allows users to see conversations as they browse the web and visit different web pages
Getting started with CommentTalk is simple.
Create a user profile.
Select a category of interest.
Paste a URL in the "Start A New Conversation: Enter the Link Here ->" field.
Hit the "Comment" Button to post a comment appended to the article.
CommentTalk's quest to save Section 230
Section 230 of the Communications Act of 1934 at 47 U.S.C. § 230 was passed in 1996 and identifies social media websites as platforms for 3rd parties to post their content instead of being categorized as publishers of their user's content. Section 230 gives social media websites protection from various forms of civil liability as the users on the website are responsible for their own published content. President Trump advocates the repeal of Section 230 which would force social media platforms to impose massive censorship on their users and destroy the concept of digital town squares. Should Section 230 successfully be repealed, start-ups such as CommentTalk will be hard pressed to compete against social media giants such as Facebook and Twitter.
About CommentTalk:
CommentTalk is a start-up company based near Sedona, Arizona. Founded in 2020, the company targets customers within the United States, hoping to end censorship and bring about fair, non-biased and healthy debate. The platform is set up to allow for free exchange on any topic and incentivizes passionate commentators by offering users the ability to add donation buttons. CommentTalk is part of Grey Hat Media, LLC and in the process of becoming a formal corporation for investment purposes.