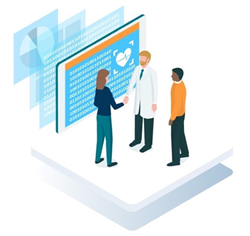 "Uniquely, Rhetorik enriches customer data using all digital assets available - verifying data in real time via the web and via our own global database of 100m+ companies and contact profiles. This is the start of a new era for data hygiene," says Denis Poulin, Chief Data Scientist at Rhetorik.
WOKINGHAM, U.K. and QUEBEC CITY (PRWEB) January 13, 2021
Rhetorik, the technology sales accelerator, announces the launch of DataCliniq, the international health service for your data. Why? Because B2B data decays at around 30% per year, and dirty data in your business, just like dirty fuel in your car, reduces performance and increases cost.
The new DataCliniq service addresses the health needs of first-party corporate data. It helps enterprise and SMB customers through a variety of services:
Diagnose

Conduct a full health check of your account and contact records.
Identify issues with accuracy, currency, and completeness.
Cleanse

Stop dirty data from disrupting your business.
Remove duplicate, invalid, and inactive records.
Enrich

Improve the fill rates of those data fields that are most valuable to you.
Add new, high value accounts intelligence that drives better outcomes.
DataCliniq enrichment is available across as many as 164 data fields per company site. Coverage is available in 127 world territories.

Individual Contact data - including Name, Title, Email and Phone Number (compliant with all relevant data privacy and data protection regulations)
Firmographic Account data - includes Business Name and Location, HQ information, Corporate website URL. Revenues, Numbers of employees and Line of business
Technographic Account data - account technology profiles on installed IT assets such as telecoms equipment, networking devices, and server and desktop hardware; software products from traditional enterprise applications and operating systems to new cloud platforms and vertical industry applications; services and consumables suppliers.
DataCliniq services are available via batch files, integration with CRM and MAP platforms (Salesforce, Dynamics, HubSpot, Marketo), and Channel Partners (Data Marketplaces).
Click to learn more about how DataCliniq, Rhetorik's data cleaning services, can help restore the health of your business data.
About Rhetorik
Rhetorik is the leading provider of EMEA B2B sales and marketing demand generation through its NetFinder service, used by technology vendors to improve campaign execution as well as planning.
Based in the UK and Canada, Rhetorik multinational data cleaning services offer the highest possible standards by combining big data, automated information handling, human curation, and meticulous quality control. Rhetorik serves customers globally with UK, Europe, U.S., and Asia-Pacific coverage.