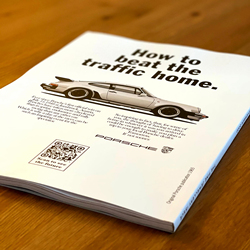 The WebAR powered print ads were featured in major magazines across the Middle-East, including publications such as Vogue Arabia, Emirates Woman, GQ Middle-East & Forbes.
LONDON (PRWEB) January 14, 2021
Porsche uses Web-based Augmented Reality (WebAR) to transform their print marketing used within major magazines across the Middle East.
Dubai-based digital agency Blue Logic partners with WebAR agency Aircards to develop and launch a highly engaging Web-based Augmented Reality print activation to promote the launch of the new all-electric Porsche Taycan.
The WebAR powered print ads were featured in major magazines across the Middle-East, including publications such as Vogue Arabia, Emirates Woman, GQ Middle-East & Forbes. The experience transforms a classic Porsche ad into the modern version in front of peoples eyes, live from the page using Web-based Augmented Reality technology.
The print ad displayed a QR code, inviting readers to 'Scan To See The Future'. Readers could scan the QR code with their mobile camera and activate the experience instantly. Once activated, readers could point their phone at the advertisement to turn a classic Porsche model into the brand new Porsche Taycan, with no app required to view the experience.
QR code activations have seen an exponential rise in popularity due to the recent pandemic and ever increasing focus on contactless activations. Blue Logic and Aircards took advantage of the mainstream adoption of this activation type to enable maximum possible user engagement.
Head of Commercial Operations, Lewis Collins said'
'It was great to work alongside the innovative team at Blue Logic to provide this Web AR activation for such an iconic brand like Porsche. This experience is another fantastic example of how Web-based Augmented Reality can be used within print media to elevate the brand message.'
Lewis continued:
'The Taycan is Porsche's first all-electric car - so promoting innovation with innovative technology like WebAR is very fitting! We look forward to continuing to collaborate with Blue Logic on future activations.'
You can watch a video of the experience in-action to see how it works.
The Porsche Taycan experience was developed on the 8th Wall WebAR framework. Aircards are an 8th Wall Premier Partner and are the agency behind experiences such as the Verizon Santa's Grotto experience, and the Michelob ULTRA Pure Gold Yosemite portal.
For those unfamiliar with WebAR, the key unique feature is that no app download is required to view the Augmented Reality experience. It all simply takes place in the mobile web browser of any compatible iOS or Android device, significantly lowering the barrier to entry as compared to app-based AR experiences of the past.
‍About Aircards: Market-leading WebAR Agency; creators of some of the biggest WebAR campaigns of 2020. Their impressive work includes high-profile activations for Dell Technologies, AB InBev, Samsung, Vodafone, Verizon, Unilever (Pot Noodle) and Hewlett Packard Enterprise. Aircards provides an end-to-end service, from ideation to development, hosting and advanced analytics.
About Blue Logic: Blue Logic is where cutting-edge technology and creativity intersect – providing an experience to the end customer keeping clients delighted. Bringing innovations and delivering a bespoke digital experience to customers with a formidable combination of technology and design expertise is Blue Logic' core.
A digital agency with innovation at the core, bringing together over 100+ man-years of experience across technology, communication, content and design, delivering powerful digital solutions to clients across a variety of industries and sectors.
Blue Logic believes that digital is much more than a technology and marketing investment. Their vision is to help clients realize the full potential of implementing a digital ecosystem, through our expertise in technology, user experience, content and consulting.